Rupert Grint and Chloe Moretz Join Beach Boys Biopic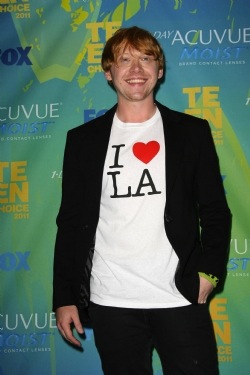 Rupert Grint is trading in his wand for a pair of sticks. The Harry Potter star just signed on to do The Drummer, a film about the last six years of Beach Boys drummer Dennis Wilson's life. He'll play Stan Shapiro, a William Morris mailroom intern who became Wilson's close friend shortly before his 1983 death. Aaron Eckhart will star as Wilson and Vera Farmiga will play his lover, Fleetwood Mac member Christine McVie.
Chloe Grace Moretz is also joining the cast as Wilson's daughter Jennifer, who was present during the worst of his alcohol addiction. We last saw her in the kid-friendly film Hugo, but this is definitely a darker role for the 15-year-old.
Source: Hollywood Reporter