'Rust and Bone' Star Matthias Schoenaerts Discusses The Daring Indie Darling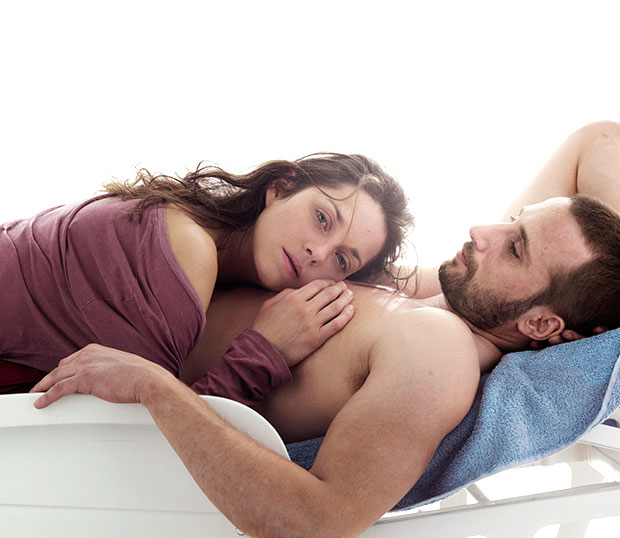 With this year's awards season officially on the horizon,
Rust and Bone
has quickly become one of those can't miss films. 
Jacques Audiard
's haunting drama opened to raves at Cannes, has already been
nominated for an Independent Spirit Award
(the French entry is up for Best Foreign Film), and its leading lady, Academy Award winner
Marion Cotillard
is considered a strong contender to return to the Oscars once again as a nominee. It's a must-see movie — that is, if you can handle actually seeing it.
Even Rust and Bone's breakout star
Matthias Schoenaerts
— who plays Ali, a broke, struggling, hot-headed single father whose life takes a turn when he begins a relationship with a double amputee named Stéphanie (Cotillard) who is coming to terms with her own horrifying accident — has felt the impact of the unflinching film. "Maybe I should watch it in three years, because I'm still too close to it," says Schoenaerts. "But when I saw it I was gripped by it, that's for sure."
Gripping is just one word to describe the film, which dares to get as emotionally raw as it does brazenly honest about violence and sex. Schoenaerts recalls the experience of shooting the film's many realistic sex scenes: "To some extent it's always a little weird, it's intimate, but at the same time you don't want to think too much about it. There's nothing to it but to do it."
Others, like Rolling Stone, have called the visually compelling drama "astonishing" and Time magazine declared it "engrossing." The praise for the film, from both critics and moviegoers alike, has touched a nerve with the 34-year-old. "That's why you do it, because you want to be part of an experience. I think cinema should try to share something profound. I don't think cinema needs to be preachy, but I think it should try to share something that is true. It's always nice when you notice that people feel it…. It's exciting to feel that people think the film should be rewarded or the performances should be rewarded so that means that people appreciate what you're doing." 
Schoenaerts — who trained on a daily basis for months to bulk up as Ali, the no-holds-barred kick boxer ("I did a lot of boxing, weightlifting, eating a lot of junk to grow a belly in order to look strong but not fit, a bit unhealthy because the guy hit rock bottom and didn't have the means") — is no stranger to harrowing, albeit critically praised dramas. Before Rust and Bone, Schoenaerts, who made his debut in the Oscar-nominated Daens, starred in the brilliant, brutal 2011 feature Bullhead. "I like antiheroes," he admits.  It's something I look for [in scripts], but subconsciously. I think I just don't believe in perfect people, I don't believe in heroes either. I believe people can do heroic things, but I don't believe in just heroes."
Whether or not choosing to play the troubled antihero in Rust and Bone was a subconscious decision for Schoenaerts (the son of actor Julien Schoenaerts), choosing to star in a film with Cotillard (whom he cites as "amazing" and "generous" to work with) and one directed by Audiard was not. Schoenarts says of the BAFTA Award-winning director of A Prophet, "Way before I even got involved in this project, The Beat That Skipped My Heart, Read My Lips, See How They Fall, [I watched] all of his films. To me he's one of the most exciting directors around. He's a one of a kind director. He's really an actor's director, he gives you all the freedom you want and at the same time he doesn't let you go." 
Schoenarts describes Audiard's motto with his actors as simply this: "I give you everything and you give me something that changes my idea of the character and on the scene we're playing so that it becomes an organic process in that what you do influences me to have a different angle on the character and it brings the screenplay to life." 
While Schoenaerts admits that Rust and Bone, which was shot in the South of France, was often times a "difficult film to make" — not only emotionally but physically (the actor says one pivotal scene on a frozen lake was shot over the course of five days, sometimes with temperatures dipping as low as fifteen below zero) — he "had so much confidence in Jacques." The actor credits the BAFTA award-winning director for finding "the right balance and from the right angle and find all the nuances… There's many ways to f**k [this story] up and he didn't."
Rust and Bone is currently playing in limited release. 
[Photo credit: Jean-Baptiste Modino/Sony Pictures Classics]
More: 

'The Hunger Games: Catching Fire' First Look: The Quarter Quell Begins! — PICS

Gabriel Aubry's Injuries from Halle Berry's Fiance Look Rough — EXPLICIT