'Rust and Bone' Star Talks Marion Cotillard's Amazing Transformation — EXCLUSIVE VIDEO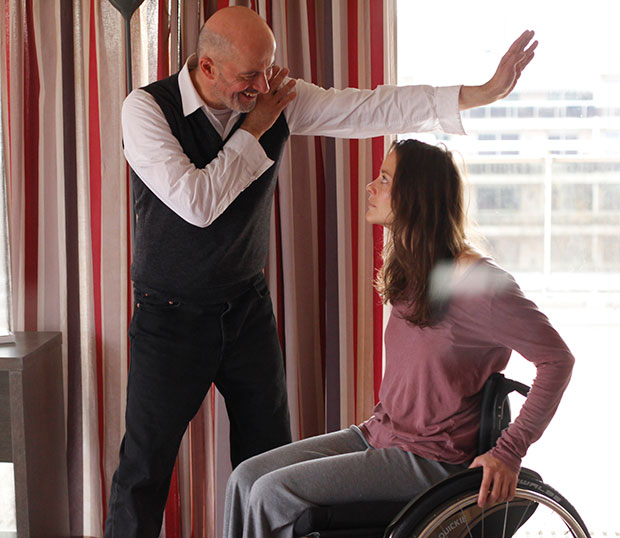 Oscar-winning actress Marion Cotillard (La vie en rose, The Dark Knight Rises) has in many roles become unrecognizable, thanks to the magic of makeup and special effects. But in the upcoming drama Rust and Bone, she tackles her most difficult transformation yet.
Depicted in raw fashion by director Jacques Audiard (Oscar nominated for A Prophet), Cotillard plays Stéphanie, a whale trainer who loses her legs while on the job. After the incident, Stéphanie struggles to feel alive, and finds empowerment through a budding relationship with a single father (Bullhead's Matthias Schoenaerts), who has his own burdens to carry.
Thanks to the magic of subtle special effects, Cotillard appears in the film without her legs, and the performance is simply stunning. In this exclusive clip from the the Rust and Bone Q&A for EPIX and LA Times' Envelope Screening Series, Schoenaerts describes his experience working with the special effects team that helped create the effect at the core of the two actors' onscreen relationship. Watch the clip below and look out for the film, which arrives in theaters Nov. 23.
Follow Matt Patches on Twitter @misterpatches
[Photo Credit: Sony Pictures Classics]
More:
Bradley Cooper, Marion Cotillard, 'Argo' & More Win Big at Hollywood Film Awards
Watch the Trailer for Rust and Bone!
Cannes Chatter: Marion Cotillard Already Stirring Up Oscar Buzz
From Our Partners:

'Twilight' Cast Now and Then (PICS) (Moviefone)
How to Be a Bond Director
(Moviefone)