'Sabrina the Teenage Witch' to Be Made into an 'Edgy' Superhero Movie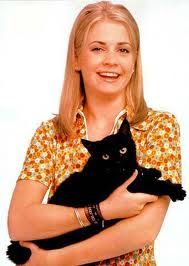 With the superhero franchises reaching their apex this year — The Avengers, The Dark Knight Rises, and The Amazing Spider-Man all swooping in over the summer — movie studios are now seeking ways to fill the impending void of origin stories with a built-in fan base. Or, at the very least, cash in on the current '90s nostalgia kick.
According to Deadline, Sony Pictures is looking to turn Sabrina the Teenage Witch from the beloved TGIF lineup sitcom (which was based off of the '60s Archie Comics character) to an "edgier" superhero origins story "in the vein of Spider-Man, about a young girl coming to terms with her remarkable powers." The movie will reportedly be penned by Die in a Gunfight's scribes Andrew Barrer and Gabriel Ferrari, with Real Steel's Don Murphy and Susan Montford producing. No one is slated to direct or star yet but here's to hoping there is, at the very least, a Melissa Joan Hart cameo.
Deadline also noted that some changes are already being made for Sabrina Spellman's "edgier" world, including changing her talking black cat Salem from a spell-ridden warlock to a "prince creating unique love stories for Sabrina." (Ah, that old superhero movie chestnut!) So what else will this mean for the Sabrina we know knew and loved? Here's some guesses as to how Sabrina the Teenage Witch will look after going through a superhero movie makeover:
– Harvey Kinkle will take on the Mary Jane unrequited love role. (Sorry, Josh.)
– Hilda and Zelda are tragically killed, à la, Uncle Ben, leaving Sabrina to come to terms with her new powers alone.
– Controversy arises after the first trailer hits and no one understands a damn word Sabrina is saying.
– And after the wild success of the first Sabrina the Teenage Witch movie, Hollywood makes a Super Friends/Avengers-esque movie with other 90s heroes. Here Sabrina saves the world by taking down Carmen Sandiego (and/or Pinky and the Brain) with the help of Alex Mac, all of The Mighty Morphin Power Rangers, The Powerpuff Girls, Pete and Pete's Artie the Strongest Man in the World, All That's SuperDude, and a box of Ecto Cooler.
How do you feel about a revamped, superhero take on Sabrina the Teenage Witch? Are you excited to revisit the character or is it impossible to imagine anyone other than Melissa Joan Hart playing Sabrina? Sound off in the comments section!
Follow Aly on Twitter @AlySemigran
TMNT: Why Michal Bay Should Make Crazy Changes
Michael Bay to Ninja Turtle Fans: Chill Out!