Sacha Baron Cohen Commands Your Laughter in 'The Dictator' Trailer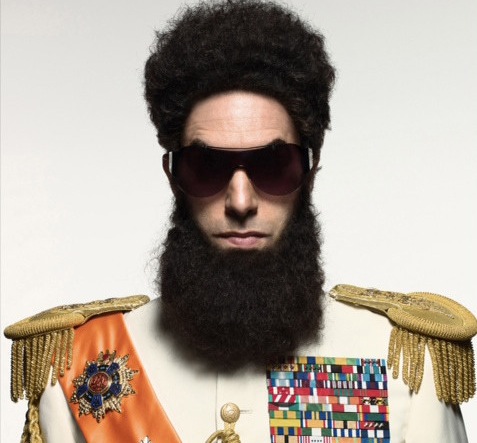 Know this: I think Sacha Baron Cohen is easily one of the more brilliant performers working today. Since spinning off Da Ali G Show into two highly successful, wickedly funny films, Borat and Bruno, he's established himself as an actor whose comedic (and dramatic) stylings can fit right in to any mainstream movie. He's appeared in Tim Burton's macabre musical Sweeney Todd, Martin Scorsese's whimsical Oscar-contender Hugo and is slated for two diverse, but equally high-profile projects: Tom Hooper's Les Miserables and Quentin Tarantino's Django Unchained. Cohen has talent and filmmakers are scrambling to harvest it.
Impressively, even after blowing up, Cohen still continues to develop is own starring vehicles, with his latest, The Dictator, making its way in to theaters next May. The first trailer for the movie has premiered on Moviefone and comes as something of a shock. Not for the same reasons as Borat—which I found sharp, satirical and absolutely bonkers—but because it looks so…obvious.
Don't get me wrong—I bet there's plenty of perverse, witty laughs tucked underneath this first trailer for the film. But at first glance, Cohen's spoof of a Middle Eastern dictator is painfully surface level, with 9/11 references and mildly-offensive riffs on the Arabic language. When Megan Fox, playing a version of herself, shows up to make a Kardashian crack, the spot pretty much lost me.
But I have faith. Cohen is a smart guy who doesn't mind tackling serious issues with his zany, committed brand of comedy. Along with being hilarious, Borat and Bruno were equally thought-provoking due to their documentary approach. If Cohen's The Dictator sheds that same kind of light on a new subject, it'll be fantastic. My only issue: I didn't get any of that from this trailer.
The Dictator opens next summer and co-stars Anna Faris, Ben Kingsley and John C. Reilly.
="font-style:>