Rowboats: Nicholas Sparks' Perfect Metaphor for Love — PICS
The Sarah McLachlan ASPCA commercials of the cinema, movies written by Nicholas Sparks will ravage your emotions and wear out your handkerchiefs. And, for some ineffable reason, they'll make you want to engage in water sports. 
The first item on a Nicholas Sparks film checklist is a beach locale. Every one of Sparks' novels-turned-movies takes place near crashing waves and salty air. And you know what goes well with water? Boats. Specifically, rowboats. I mean, can you think of a better motif for love, commitment, and support than a strong man propelling his lady love into the open water with nothing but his powerful biceps and keen sense of direction to guide them? That's a rhetorical question — of course you can't. 
RELATED: Nicholas Sparks or Not? Can You Tell These Romantic Movies Apart? — Quiz
Four of Sparks' eight films include key scenes with rowboats — and since the other four take place near the ocean, we imagine boats can't be too far away. Let's join Mandy Moore on a walk down memory lane to take stock of all the romantic vessels that feature in Sparks' works. 
Safe Haven
In Sparks' most recent adaptation, Julianne Hough plays a woman on the run from her dangerous past. Can Josh Duhamel's canoe happy place provide her with the security she craves?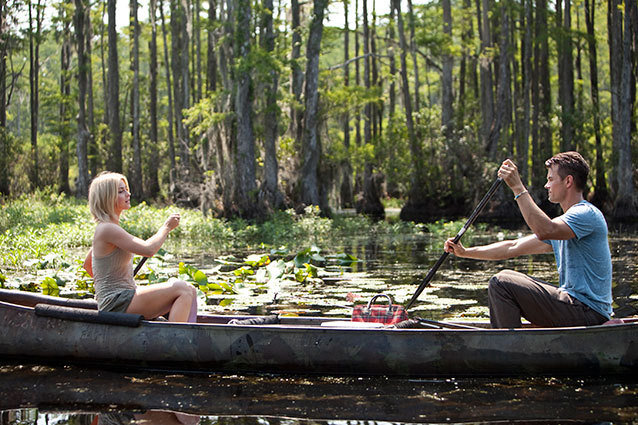 [Photo Credit: Relativity]



The Lucky One

Nothing builds a relationship quite like fixing up an old rowboat — trust and team building really are the cornerstones to any healthy union. And considering Taylor Schilling only fell for Zac Efron after he lied to and borderline-stalked her, these two need all the help in that department that they can get.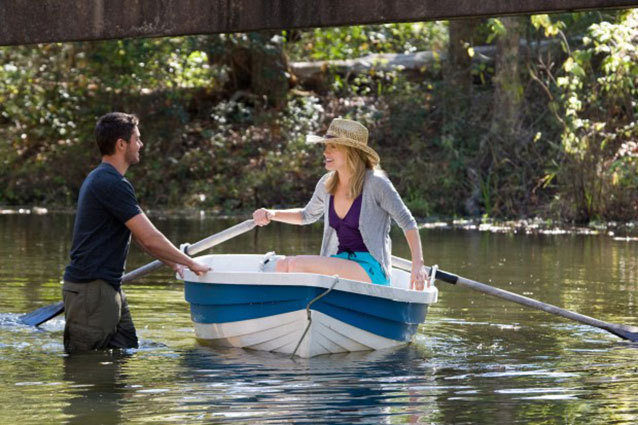 [Photo Credit: Warner Bros. Pictures]

NEXT: In which Ryan Gosling is the world's hottest gondolier…



The Notebook

Rachel McAdams and Ryan Gosling may be responsible for the most charming foreplay substitute to ever be captured on film. Following their whimsical boat ride through the pines, the two get stuck in a rogue downpour. And then there's some yelling about letters and soulmates as the driving rain camouflages their tears. And then… you know where things go from here.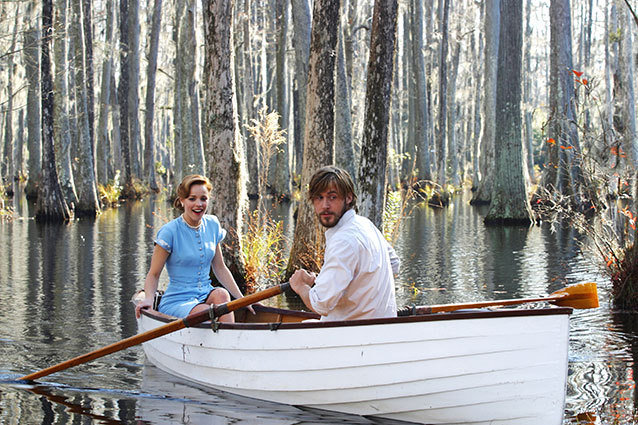 [Photo Credit: New Line Cinema]



Message in a Bottle

It's the boat scene that started it all. Kevin Costner and Robin Wright (it's Princess Buttercup, yo!)  share an intimate moment on the high seas. Then they write down all their feelings and pledges of eternal love on a piece of lined paper and send it off in an old Coke bottle for future generations to find and read and sob over. Or at least, that's what probably happens. I've never seen this movie.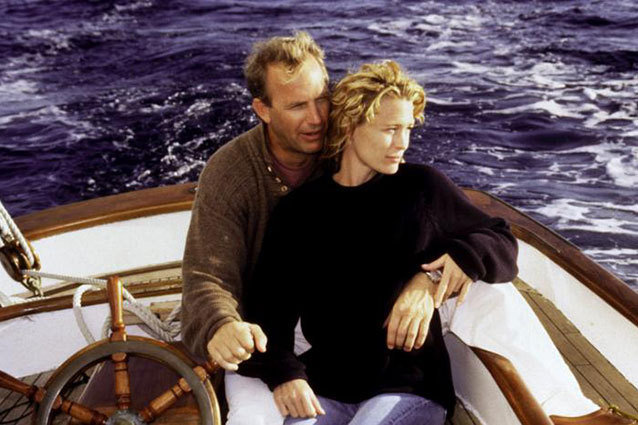 Follow Abbey on Twitter @AbbeyStone

[Photo Credit: Warner Bros. Pictures]