Salt prepares to add spice to the box office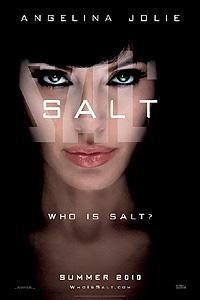 "The Long Kiss Goodnight."  Four words that conjure images of ass-kicking action centered around a female protagonist that took the elements of the typical testosterone driven, male-dominated action movies and turned them on their feminine ear.  The year was 1996 and perhaps the world was not yet ready to see a buffed out, wild-eyed and cold-blooded killer embodied in the female form of Geena Davis (though a number 3 debut with $9.1 million and a total domestic gross of $33.5 million was not bad in 1996).  Renny Harlin was seemingly ahead of his time, though clearly he had seen director Luc Besson's 1991 "La Femme Nikita" and thought he could re-imagine his own action sensibilities as developed on 1990's "Die Hard 2: Die Harder" and apply them to his then-spouse Davis.  Fun fact: Besson was married to "Nikita" star Anne Parillaud when he directed her in that film.  Evidently, Harlin and Besson liked to watch their wives beat the crap out of people on screen.
That brings us to Sony's espionage action thriller "Salt."  Director Phillip Noyce is a veteran of the action genre having helmed 1992's "Patriot Games," and 1994's "Clear and Present Danger" among others.  A taught and effective summer ride, Angelina Jolie proves once again that a woman can bring as much to the action table as any man and look really fine doing it.  As Lara Croft, Mrs. Smith and the beautiful assassin Fox in 2008's "Wanted," Jolie has made a career out of portraying super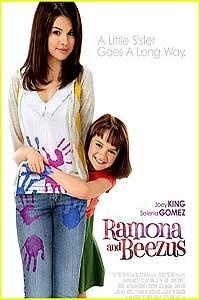 hot, ultra-dangerous women on screen and the audience seems to totally buy into the idea ("Mr. and Mrs. Smith" and "Wanted" both debuted with over $50 million).  "Salt" may be the perfect manifestation of all the disparate parts that make this joyride of a film so enjoyable.  With women driving such a huge part of the box office revenue in recent years, "Salt" may prove quite effective in getting both women and their male-counterparts into the theatre.  It seems like not much arm-twisting will be required to get guys excited to see the film; in fact it may be the guys dragging their girlfriends to see "Salt."
On the flip side of the PG-13 action represented by "Salt," is Fox's G-rated "Ramona and Beezus" which is based on the book "Ramona Forever" and featuring characters from the Ramona series of children's novels by Beverly Cleary.  With a terrific trailer and marketing campaign plus a super-appealing ensemble cast including John Corbett, Josh Duhamel, Ginnifer Goodwin, Sandra Oh and Bridget Moynahan the film is the perfect family summer film.  Of course Joey King as Ramona and singer-songwriter and Disney channel mainstay Selena Gomez as her big sister Beezus, have great sisterly chemistry and are truly the heart of the film.  Even with lots of competition for the family film audience with "Despicable Me," "The Sorcerer's Apprentice," "Toy Story 3," "The Last Airbender" and "The Karate Kid," all in the marketplace, "Ramona and Beezus" should still have a solid shot at making its mark at the box-office this weekend.
A very competitive box office environment has certainly developed over the past few weeks and Warner Bros. "Inception" is clearly the film to beat this weekend.  With a Monday gross of  $10.2 million it is evident that word-of-mouth is strongly favoring the film and that it will present a formidable competitive challenge to the newcomers in the weekend derby; even if the film dropped 50% we are still looking at a $31 million plus weekend for the mind-bending, visual tour-de-force.  One thing is certain, with the combination of "Inception," "Salt," "Despicable Me," "Toy Story 3," "The Sorcerer's Apprentice" and "Ramona and Beezus," this should be another strong weekend at the nation's theatres.