Sandler and Samberg Talk 'That's My Boy' — EXCLUSIVE VIDEO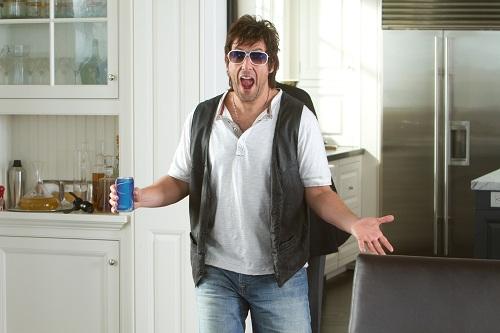 WASSUP?!!
Yes, Budweiser's famed greeting of the early 2000's is back and louder than ever in Adam Sandler's newest summer flick That's My Boy. Even though this catchphrase will easily cost you at least 20 dollars in the nearest "Douchebag Jar," we have to admit, if there is one actor who can pull it off, it's Sandler.
When a seventh-grade fantasy comes true, young Donny Berger (Sandler) becomes a single parent while his girlfriend (a.k.a. an abnormally attractive math teacher) is behind bars. Donny's lackluster parenting skills caused his son Todd, played by SNL's Andy Samberg, to move out the instant he turned 18. Now, Donny is barging back into his son's life in hopes of fixing his own financial problems and possibly their non-existent relationship. Yup, it's your typical kill two beers with one glass story.
Hollywood.com recently sat down with Sandler and Samberg to get all the dirt on what the actors are really like on set. Ahem, divo? Party of two? Plus, we brainstormed different ways Samberg can fill his newly free Saturday nights, and got all the casting scoop for Grown Ups 2.
You can catch That's My Boy in theaters Friday, July 15 and check out Hollywood.com's exclusive interview with the fellas below!
Follow Leanne on Twitter @LeanneAguilera
[PHOTO CREDIT: SONY]
MORE:
Adam Sandler Movies: Proof Celebrity Cameos Gauge the Quality
The 'Magic Mike' Boys Finally Get Naked — TRAILER
'The Hunger Games: Catching Fire' Goes 'Dark Knight Rises', Shoots in IMAX