Sandler, Lindelof, The Rock, and More: 7 New Year's Resolutions for Hollywood Titans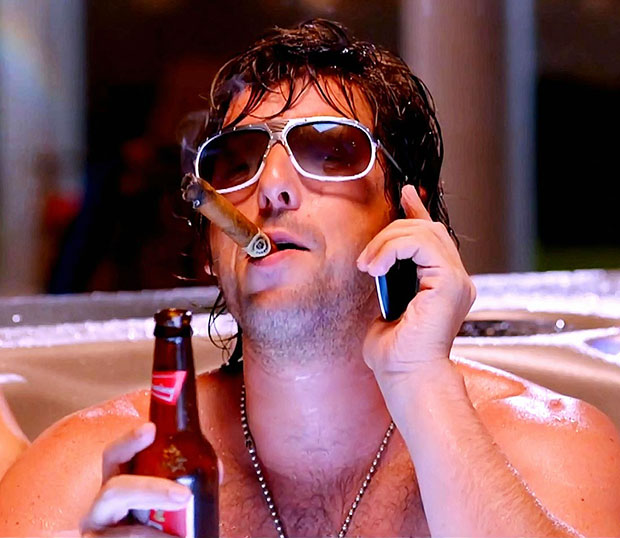 Chilling the champagne? Setting out the party platters? Trying to figure out how many passed-out friends can fit on your guest room floor? That must mean the New Year is upon us. As we usher in 2013, it is once again time to make our resolutions: you know, those things we're dead set on maintaining until… oh, let's say, March. Filmmakers and performers are also readying their resolutions, and based on the closing as well as the burgeoning cinematic year, we're doing our best to predict what they will be. Should old acquaintance be forgot, these celebs should still endeavor to remember these resolutions…that we're totally making for them.
Adam Sandler: To Renew His Deal With The Devil
It's amazing that ever since Adam Sandler made the self-effacing Funny People, he's actually starred in real movies far worse than his character's fake absurd, satirical comedy projects. After all, could Merman really be any worse than That's My Boy? But then again, did we think anything could top (rather, sink lower than) Jack & Jill? On top of that, he continues to bankroll projects for sensationally unfunny boobs like Nick Swardson and Kevin James? Sandler resolves to perpetuate his Faustian contract in order to keep profiting from comedies that are unburdened of any actual comedy.
Joss Whedon, Sam Mendes, and Christopher Nolan: To Call Dibs On Plot Devices
If there was one thing that defined the cinematic landscape of 2012, it was super villains who weren't playing hard to get. Thanks to movies like The Avengers, The Dark Knight Rises, and Skyfall, it seemed like every bad guy from London to Asgard worked an intentional incarceration into their devious scheme. It became something of a joke circulating the web, and the trio of prominent filmmakers who utilized the trope in 2012 are resolved to powwow before future projects to ensure no further embarrassing overlap.
The Rock: To Be The Matthew McConaughey Of 2013
This year's breakout star, without question, was Matthew McConaughey. He appeared in several major films in 2012, thankfully none of which costarred Kate Hudson. He frightened us (at least away from ever eating friend chicken again) in Killer Joe, made us laugh (and swoon) in Magic Mike, and reteamed with his pal Richard Linklater for the darkly comedic gem Bernie. In 2013, Dwayne "The Rock" Johnson will be appearing in G.I. Joe: Retaliation, The Fast and the Furious 6, Pain & Gain, and Snitch. He is shaping up to be the workhorse of the coming year and is resolved that at least one of those movies will bring him a McConaughey-like resurgence.
Peter Berg: To Only Make One Bad Movie At A Time
Battleship topped many a Worst Movies of 2012 list, and deservedly so. It's not often a director can take the adaptation of a board game and create something that ends up…being even worse than we would expect the adaptation of a board game to look like. The most bizarre thing about Battleship is how it cobbled together elements form several other schlockbusters into one atrocious hybrid. In the future, Peter Berg will resolve to focus his efforts on making a singular subpar submarine instead of a giant carrier overrun with the numerous trappings of other people's shipwrecks.
Bradley Cooper: To Wear Even More Trash Bags If It'll Land Him An Oscar
Proving you are more than just a pretty face in Hollywood is never easy, especially if you happen to be as pretty as Bradley Cooper. In 2012, however, one trip into bipolar disorder — and one very unflattering wardrobe choice — may just have pushed him over the edge into fully legit actor territory. His character in David O. Russell's Silver Lining Playbooks dealt with his psychological demons, in part, by regularly jogging while wearing a trash bag sweat suit. If the Hefty hijinks actually succeed in landing Cooper on the list of Best Actor nominees, expect plenty more garbage chic workout attire in all his future roles.
Damon Lindelof: To Proofread Scripts Before Handing Them In
Prometheus began 2012 as one of the year's most promising movies, and ended up as one of its biggest disappointments. The return to the Alien universe was packed to the gills with plot holes that ate through our enthusiasm like xenomorph blood through the hull of the Nostromo. Not to beat a dead cartographer, but how does the character in charge of mapping the temple, who has the benefit of 3D imaging and communication with a ship full of people who can also see the layout, get himself lost? In the future, screenwriter Damon Lindelof resolves to make at least take a second glance at his scripts before sending them in to the studio.
Peter Jackson: To Make Six More Lord Of The Rings Films
Remember when Peter Jackson wasn't going to make The Hobbit? And then when he was only making one Hobbit movie? And then just two? Terrified to leave the comfortable confines of Middle Earth, Jackson may in fact never stop making films based in The Lord of the Rings universe. It may take some creative license, i.e. incorporating elements of other fantasy properties like Game of Thrones into Tolkien's stories and hoping no one notices, but if he plays his cards right, Jackson may be able to squeeze one or two more trilogies out of the deal. There may even be one film completely devoted to Gandalf's first year at Hogwarts. Wait…
[Photo credit: Columbia Pictures]
More:
Record Box Office Year for 2012!
Pop Culture Predictions for 2013

Hillary Clinton Hospitalized for Blood Clot: Report