Sandra Vergara Joins 'Fright Night'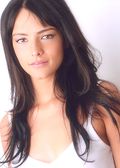 If you've been paying attention to network television this past season, you know that there's a new feisty Latina in Tinsel Town who's giving Salma and Penelope a run for their money. What you may not know is that Sofia Vergara, the voluptuous vixen who has won rave reviews as Gloria on ABC's Modern Family, has a younger sister named Sandra and she's ready to make her mark on the movie business.
The Hollywood Reporter scoops that Sandra has joined the cast of DreamWorks' upcoming teen-horror remake Fright Night, which is currently filming in New Mexico under the direction of Craig Gillespie (Lars and the Real Girl). Already cast are Anton Yelchin, Colin Farrell, David Tennant, Imogen Poots, Toni Collette and Christopher Mintz-Plasse. Vergara will play the girlfriend and assistant to a magician, played by Tennant, who is reluctantly recruited by Yelchin's Charley Brewster to fight off a vampire.
Of all of the horror remakes that are in production or development, I am looking forward to this one the most. Not because it's necessarily the most original, but because Fright Night hasn't been worn out by scores of sequel's and spin-off's like the Halloween's and Friday the 13th's of the world. Fans of Tom Holland's 1985 cult classic will likely flock to the multiplex based on the nostalgia factor and/or the wonderfully eclectic cast that the studio has put together, while youngsters who continue to spend their allowance on the cheap thrills that horror remakes provide will be unfamiliar with the story, making for an intriguing and unpredictable reaction to the material.
Fright Night is scheduled to scare up an audience on October 7th 2011.
Source: THR