Sandy Hook: Will Hollywood Limit Violence in TV and Movies Following Tragedy?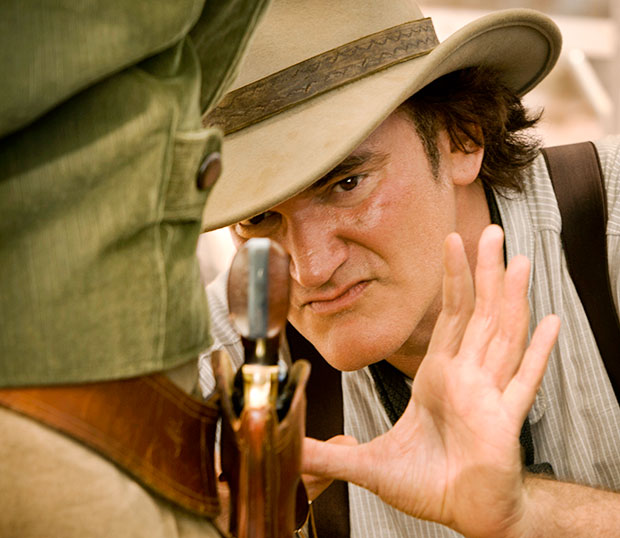 We are a nation in mourning. And in times of mourning, we tend to err on the side of extreme caution, in hopes that we may not add to the pain that already consumes us and our neighbors. In the wake of the Sandy Hook Elementary shooting, one of the most troubling events in U.S. history, the entertainment industry is doing its best to be a good neighbor.
But how do we tell the difference between a reaction to tragedy and the beginnings of a greater shift in the industry?
In the days since the tragedy in Newtown, Conn., Hollywood has offered its condolences, and altered many big-budget plans in the name of respect. Three premiere parties this week, including the family holiday comedy Parental Guidance and two violent blockbusters Jack Reacher and Django Unchained, were cancelled or postponed as a measure of sensitivity. SyFy pulled a new episode of Haven for its depictions of school violence while ABC temporarily took an episode of Scandal off its site due to a scene involving the murder of a family and Fox opted for reruns of American Dad and Family Guy on Dec. 16 in an effort to avoid "potential insensitivities." Homeland and Dexter both warned viewers on Sunday that their season finales might be disturbing in light of recent events. The trailer for Colin Farrell's new flick, Dead Man Down, was quickly snuffed out the week it was to debut in theaters. In some places, including Connecticut, popular songs like Ke$ha's "Die Young" and Foster the People's "Pumped Up Kicks" (which includes lyrics like "All the other kids with the pumped up kicks/Better run, better run faster than my bullet") were pulled from the radio, potentially indefinitely in the case of "Pumped Up Kicks." Even Barry Manilow canceled his concert on Dec. 14 in an effort to show sympathy to victims. No entertainment realm was untouched.
RELATED: 'Zero Dark Thirty' Is An Action Movie Pulled From the Headlines – TRAILER
"I think it shows a sensitivity to the nature of the crime, the immense shock and grief that, as a nation, we're all feeling because of Sandy Hook Elementary. I think that it's respectful certainly," says Holly MacDonald, 24, of San Antonio, Texas.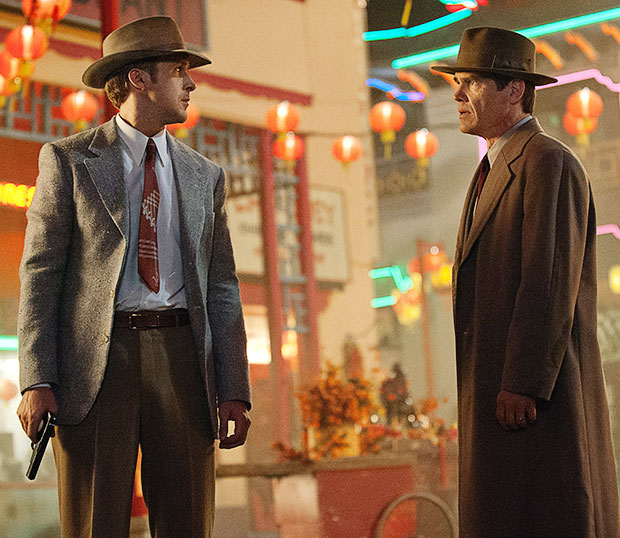 It's almost unfathomable that anyone, in Hollywood or elsewhere, wouldn't react with some form of sympathy. It makes sense that in the days following an awful event, Tinseltown turned down its usual luster, but it's the reaction to films and television shows that are markedly violent that stands out. It's the second time this year violence in entertainment has come into question in response to real-world trauma, and there seems little doubt that the industry will have discussions about its penchant for glorifying blood and gore. After all, Jamie Foxx — star of Django, one of the most violent films of the year — has already started to think introspectively following the Sandy Hook shootings. "We cannot turn our back and say that violence in films or anything that we do doesn't have a sort of influence," Foxx told the BBC. "It does." 
But the conversation has been buzzing since this summer, in the wake of the Dark Knight Rises shooting in Aurora, Colo., and Sandy Hook will only serve to bolster the discussion. In response to Aurora, premiere parties and public appearances by the cast of Christopher Nolan's film were postponed indefinitely, but the ripples went a little further. Ryan Gosling-starrer Gangster Squad was set for a Sept. 7 release in the U.S. and was instead pushed back to the movie release wasteland of January while one of the final shootout scenes, originally located at the famous Grauman's Chinese Theater in Los Angeles, was re-done due to its similarity to the real life tragedy. It's a small sample of Hollywood's reaction to Sandy Hook, which may further inform the protocol surrounding onscreen violence in the future.The wave of change is reaching the small screen, as well. We've yet to see an upcoming film project announce a reshoot or all-out cancellation, but TV seems to be taking a bit more heat this time.
RELATED: 'Django Unchained' Los Angeles Premiere Canceled in Wake of Newtown Shootings
Cable networks are experiencing the silencing of potentially insensitive programming, including TLC's Best Funeral Ever, which was just postponed, and the American Guns reality series, which was canceled this week, though reps for Discovery insist the decision was not related to the tragedy or the influx of protest on the show's Facebook page this week. It's something many TV fans see as completely necessary from a sensitivity standpoint, but it's also important that the industry that's often marked by the ability to overshadow national news with the announcement of the latest American Idolmight also being doing its part to focus the debates spurned by Sandy Hook on issues like gun control and mental illness.
"By airing violent films and television shows, we're just giving the pundits more reasons to argue," says Debbie, 26, from Brooklyn, an avid pop culture consumer who asked that her full name not be used. Of course, while thinking of movie studios and TV network executives putting sensitivity above all else gives many of us the warm and fuzzies in a time that feels hopelessly bleak, some pop culture consumers aren't buying it. "Some of the decisions to delay are probably business decisions … They care about how we feel because they want people to go see [their projects] so they can make money," says moviegoer Robert Kaplan, 24.
And while we'd like to believe all decisions made in these next few weeks come straight from the heart, there is an inevitable, and somewhat bitter element of damage control. No gaffe or apparently lack of sensitivity will go unnoticed, and the entertainment powers that be are well aware of that.
Weeks after the tragedy in Aurora, Justin Bieber — the young man whose most controversial moment up until that point was deciding to rid himself of his teeny-bopper bangs and signature purple hoodie — posed for a picture on the set of Selena Gomez' movie Feed the Dog, holding a gun and pointing it at his then-girlfriend's dad who posed with the two young stars. The photo immediately sparked debate. Not only was it too soon, but after something as horrific as the theater shooting in Aurora, it was inconceivable that someone as well-known as Bieber would so flippantly mock gun safety.
It's something that hasn't escaped artists in the wake of the Newtown shooting either. In a move that clearly wasn't connected in any way to the events in Connecticut, rapper T.I. released his new album on Dec. 18, Heavy is the Head. The album's cover art prominently features a half-cocked pistol, brandished in an almost heroic fashion by the rapper. When the record label didn't postpone the album release or rush to replace the cover art, it didn't take long before someone pointed out the insensitivity of the release. While the timing isn't something T.I. or his label can control, perhaps these utterly sensitive reactions are something we should come to expect in these circumstances, in music and in all areas of entertainment.
RELATED: 'Saturday Night Live' Quietly Addresses Sandy Hook: Watch the Touching Tribute — VIDEO 
"Executives need to be cautious — anything that has the potential to offend viewers should be pulled. I don't think anything is off-limits at this point — we need to figure out how our country is going to shift its view on gun control," says Debbie from Brooklyn. Granted, we're still very much in the throes of our grief. It was just a few days ago that we watched our president weep on national television and the thought of the Newtown horror. It might be too soon to tell what the full effect of the ignited gun control debate and heightened sensitivity to violence may be. If the past tells us anything, audiences will grow back their thick skins in time. Just take, for example, Gangster Squad, which returned from its reshoots to premiere an opulent, gunfire-laden trailer that had since cut the infamous theater scene, but was never the less meant to elicit a sense of old timey mafia "fun" set to the glorious, pumped up soundtrack of Jay-Z's "Oh My God."Hollywood took a beat, but then, when we were ready, the beat went on.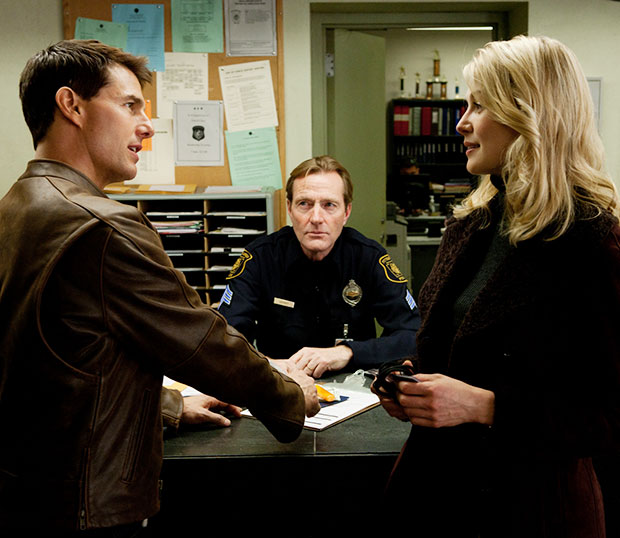 Still, the scope of the entertainment industry's reaction this time around — reaching every nook and cranny of pop culture and entertainment — is something of note. Not since national tragedies on the level on 9/11 have we seen the reaction of extreme consideration, respect, sympathy reach this far. And in the wake of that tragedy, our experience of entertainment shifted — depictions of the lost towers was deemed too painful, even in the case of old Friends reruns. Audiences clung to the fantastical fantasy adventures of Harry Potter and Frodo, sought unlikely heroes in Spider-Man and even Vin Diesel's unintelligible agent XXX. The public couldn't even fathom depictions of the horrors of 9/11 until 2006, when both United 93 and World Trade Center debuted — and even then, we cried "too soon."
It wasn't until now, over a decade after the tragedy that works like Homeland and Zero Dark Thirtyhave been able to tackle the sensitive subject without creating a ruckus among pop culture consumers. As the Washington Post pointed out, the Newton tragedy is one of the 12 deadliest shootings in U.S. history — all of which have occurred since 2007 — and if it can change the face of the debate on one of our nation's longstanding stalemates (just take a look at the latest Google search stats to see how quicklythe topic of "gun control" has reemerged), it certainly has the capacity to change the way we see violence in entertainment. Though hyper-sensitivity around onscreen violence simply won't last at the height its currently occupying, we're already seeing studios follow in the footsteps of the last round of films who changed their promotional courses as a reaction to real-life violence – just this week, Paramount decided to cut a sniper scene from the Jack Reacher trailer, much like Gangster Squad's missing theater scene, in addition to cancelling premieres and events, as Warner Bros. did with The Dark Knight Rises.
In a way, that's change in and of itself: We now have protocol for reacting to tragedies of this nature, and we're finding out where else those rules apply, and when. Whether moving forward, this horrible event will mean less fictional violence altogether, reforming the amount of violence used as a means of promotion in marketing materials, more explicit forewarning of potentially violent content, or some other derivative reaction is yet to be seen.
But one thing is irrefutable: We will see change. It may not appear drastic and you can bet it will not involve the complete removal of all firearms from the big and small screens. However, no element of our society can escape the mark of this tragedy. Because of this, we've all changed, and thus everything has changed.
Follow Kelsea on Twitter @KelseaStahler
[Photo Credit: Andrew Cooper/ The Weinstein Company; Paramount Pictures; Jamie Trueblood/Warner Bros]
You Might Also Like:

20 Hottest Bikini Bodies of 2012: Megan Fox and More!