'Saw' Slices the Box Office Competition!
A Halloween Horror Movie Smack-down takes the "Saw" franchise out with a bloody bang as "Paranormal Activity 2" mutilates the competition.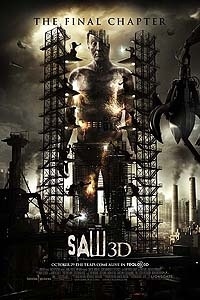 Lionsgate's 'Saw 3D,' the seventh installment of the wildly successful horror franchise has made its final chapter a memorable one at the box office this weekend with $24.2 million.  3D is experiencing a mini-revival after meeting with resistance from both moviegoers and filmmakers earlier this year and apparently has now found favor with younger audiences looking for an over-the-top experience that is tailor made for a genre movie such as 'Saw.'
For seven straight years the character of Jigsaw has made audiences squirm in their seats and happily plunk down their hard-earned cash for the privilege.  The addition of the 3D component supercharged this 'Saw' which accounted for 91% of the weekend tally.  2,100 3D locations out of a total of 2,808 theatres enabled the film to take the franchise out on a high note.  With a franchise average opening weekend of $26.6 million, this 'Saw' found itself right in the sweet spot and offered a fitting end to seven years of profit-making and seven years of scaring the crap out of moviegoers to the tune of $394 million in total domestic revenue.
Check out our exclusive 'Saw 3D' themed comic strip from Francesco Marciuliano.  Francesco writes the internationally-syndicated comic strip "Sally Forth" and the webcomic "Medium Large." He was the head writer for the PBS series "SeeMore's Playhouse," for which one of his episodes won two 2007 Daytime Emmys. He currently writes for the Onion News Network.

After a truly scary $40.7 million debut last weekend, Paramount's 'Paranormal Activity 2' had another solid weekend with $16.5 million.  A nearly 60% drop was to be expected given the enormity of the opening weekend and the new found competition from the number one film.  Mid-week grosses in the $2 million range showed that interest remained strong leading up to the genre-friendly Halloween weekend.  Add to that the IMAX experience and in just ten days of release the film has generated an impressive $65.6 million.  
One of the true fall success stories, Summit's 'RED' has shown remarkable staying power based on solid word-of-mouth and earlier this week it was still grossing over $1 million per day.  A tiny 28% third weekend drop and a weekend gross of 10.8 million enabled the Bruce Willis ensemble action movie to remain in the thick of the box office fight and a domestic gross of nearly $60 million.
 'Jackass 3D' amazingly passed the $100 million mark this weekend after just seventeen days of release.  With $8.5 million in its third weekend, even a 60% drop cannot keep these jackasses from laughing all the way to the bank.  With profit-margins off the chart, look out for more "Jackass" antics in the future.  
Rounding out the top five is Warner Bros.' 'Hereafter' with $6.3 million against a 47% second weekend of wide release drop and a total gross to date of $22.2 million.  As is typical for Clint Eastwood, the director creates films that attract older viewers who head out to the theatre over time and thus make his movies marathon performers rather than sprinters.  
This was another "up" weekend vs. last year as we near the $9 billion mark in year-to-date revenue with attendance topping the 1.1 billion mark.  Next weekend exemplifies the diversity of the holiday movie season as it kicks off with a mix of comedy (Warner Bros.' 'Due Date')," family 3D animation (Paramount/Dreamworks' 'Mega-Mind'), Oscar-worthy fare (Fox Searchlight's '127 Hours' starring James Franco) and Tyler Perry with Lionsgate's 'For Colored Girls…'.  Perhaps the best time to be a moviegoer, the holiday season mixes comedy, summer-style action, family fare and Oscar contenders together in the multi-plex and this year looks to be one of the strongest in terms of quality that we have seen in many years.  And that's a good thing as we head into the final two months of the box office year.
Weekend Box Office
Top 10 Movies – Weekend of October 29, 2010 (Estimates)
Movie
Weekend
Total
1
Saw 3D (R)
$24.2 M
$24.2 M
2
Paranormal Activity 2 (R)
$16.5 M
$65.6 M
3
Red (PG-13)
$10.8 M
$58.9 M
4
Jackass 3D (R)
$8.4 M
$101.6 M
5
Hereafter (PG-13)
$6.3 M
$22.2 M
6
Secretariat (PG)
$5.1 M
$44.8 M
7
The Social Network (PG-13)
$4.7 M
$79.7 M
8
Life As We Know It (PG-13)
$4.0 M
$43.5 M
9
The Town (R)
$1.9 M
$87.6 M
10
Conviction (R)
$1.8 M
$2.4 M