'Scarface' Blu-ray Coming September 6th!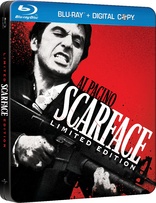 Well, I guess you can finally watch something on your Blu-ray player when you have that mountain of cocaine in front of you. Scarface, the most badass movie ever made, is finally coming to Blu-ray on September 6th. It is the single most influential gangster movie of all time, perhaps only eclipsed by its impact on the college dorm room poster business (Scarface accounts for 47% of all poster sales in a figure I just made up).
The set will come with all the usual extras you've come to expect from a Blu-ray, including deleted scenes, commentary tracks and documentaries. Perhaps the only fairly interesting thing is that it also comes with the original 1932 Scarface, so that's cool. And if you're the ultimate rich Scarface fan (which is most of you), boy do they have something special for you:
Additionally, for the ultimate collector and cigar enthusiast, a hand-crafted Scarface-themed humidor will be made available in an exclusive, never-before-available, limited gift set edition. Created by the renowned Daniel Marshall, the humidor's exterior is hand
painted and polished with the Marshall's trademark "1000 coat brilliant
finish." The interior – made with untreated Spanish cedar – will
properly condition and age approximately 100 cigars at optimal humidity
levels. Limited to 1,000 worldwide and priced at $999.99, each
individually numbered humidor comes embellished with custom medallions
inspired by the iconic film and includes a certificate of authenticity.
A thousand dollar humidor with medallions from a movie that most rapper site as their inspiration? I was going to just burn this money in a large pile, but now I finally have a use for it! Thanks!
Source: Blu-Ray.com