How the 'Mama' Trailer Saved 'Scary Movie V'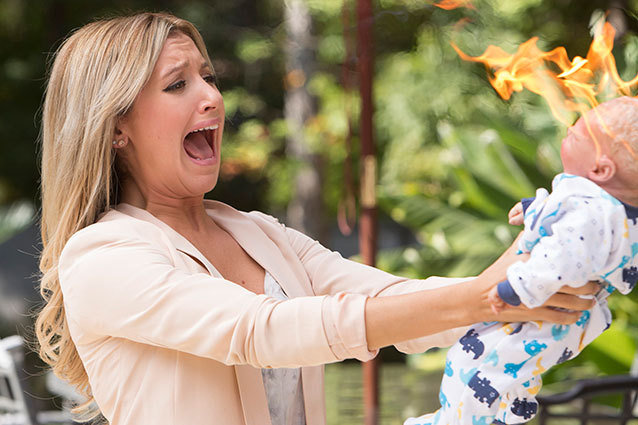 Making a spoof movie ain't what it used to be.
Comparing his latest endeavor, writing and producing this week's Scary Movie V, to his vast body of comedy work, David Zucker admits that life was a bit easier in 1980 when he and his collaborators set off to shoot Airplane!. Widely considered the pinnacle of spoof cinema, Airplane! riffs on a select number of films. It's Zero Hour!, Airport '75, and few dashes of Saturday Night Fever and From Here to Eternity for good measure. The Scary franchise is a different beast.
Following in the footsteps of the Wayans' first two Scary Movie films, modern spoofing had a new demand for Zucker when he took over the franchise for Scary Movie 3. "This is the hardest thing to do, to weave together plots from different movies," he says. "You have to make your best guess. In all these movies, we end up reshooting. You have to put it in front of an audience. What happened in [Scary Movie V] is that we used Paranormal Activity, elements of all of them, and Black Swan, and Planet of the Apes. What we found out was, none of those movies had an actual monster. We didn't realize that until halfway through. Fortunately, Mama came along."
When Zucker describes the Scary Movie process, it sounds grueling, sporadic, challenging, and ultimately gratifying when a moment of clarity emerges from the chaos. As a true auteur of comedic filmmaking, Zucker has long lived by a listed mantra, 15 rules that help keep him on track as he makes a movie. The glossary earns laughs on its own (terms include "Gilding the Lily," taking a joke so far that it's no longer funny, and "Floocher Dialogue," filler lines recited by foreground characters to enable the audience to focus on a background joke), but they're important to Zucker's approach to making movies.
"The rules are just us trying to not repeat the same mistakes," says the producer. "You disobey these rules at your peril… One of the things is, movies have to be grounded in reality. It's something BASEketball didn't have and Top Secret didn't have. They didn't have character arcs."
That's why Mama helped reinvigorate Scary Movie V — but not in the scripting stage. "Much later into production we incorporated Mama and even Evil Dead," Zucker says. "We actually spoof the trailer [laughs]. I always say, 'Kids, don't try this at home.'" The producer admits that Scary Movie V began production without an antagonist, a no-no in the Zucker book of comedy. Including the ghastly villainess of that film gave the movie a new arc. "How well a job we did, I can't judge, because I'm right in the middle of it. But for sure, we just really knocked ourselves out trying to make it into a cohesive plot structure. That's what Mama gave us, because Jessica Chastain had such a good character."
Don't get him wrong: Zucker prefers a calmer, more structured filmmaking style. He doesn't like endless nights of rewriting and reshooting. In fact, Zucker wasn't even planning on returning to the Scary Movie franchise until two of Hollywood's most influential producers asked him to. "The Weinsteins asked us to do this. They had to make Scary Movie, so I did it," he says. "It's not something I planned on doing, but it's still what I love to do."
Working on Scary Movie V with Bob and Harvey Weinstein is a bit of thankless task, rounding up all the ideas that must be in the movie, and piecing them together into something watchable. When asked if it's anything like writing Kentucky Fried Movie, his wonderfully manic sketch comedy film from 1977, Zucker politely says, "Well, that's a theory."
"There were some instances where we were directed to throw some things at the screen that didn't fit in the story," Zucker says. "And that's not the right thing to do, so those things didn't work. But we cut them out. No matter how crazy and zany these spoof are, and they're pretty crazy, we still have to obey plot, structure, and character. It has to be coherent. If you take a side track, it won't work."
One thing Zucker had little to do with was Scary Movie V's stunt casting, which brings back Scary Movie vet Charlie Sheen, and enlists newbies Lindsay Lohan and Mob Wives star Big Ang. Zucker was happy to reunite with Sheen ("[He's] just a dream to work with. It's like driving a fancy car."). The others… well, he didn't know who Big Ang was, but he made it work. "The studio has this franchise and they know what they want to do with it," he says. "So they have very strong opinions on who they want to cast. And we accommodate that." Zucker laughs at an on-set title he's earned from keeping production on its toes. "They always joke about me because I come in in my scrubs and operate on the patient."
The reason Zucker believes he can work in this fashion is because he's well aware of what has and hasn't worked past. One thing that didn't work: his 2008, right-wing skewing An American Carol. "If I had to do it over again… I don't think I ever would have done it," he says. "Again, it has to be more entertainment than preachy. The talking points were too much out front. I just wanted to make it funny." Zucker recalls having an amazing experience making the critically-maligned Carol, which he co-wrote with his writing partner Lewis Friedman (who he points out is "a liberal New Yorker and a far left Democrat!"), and thought would play to all audiences. "We just wanted to make it as funny as we could while poking fun at the left, which nobody does," Zucker says. "People who know me know I'm not that serious about anything. I don't take the politics seriously. I don't think Republicans go to see movies, that's the other thing! It was a misguided thing."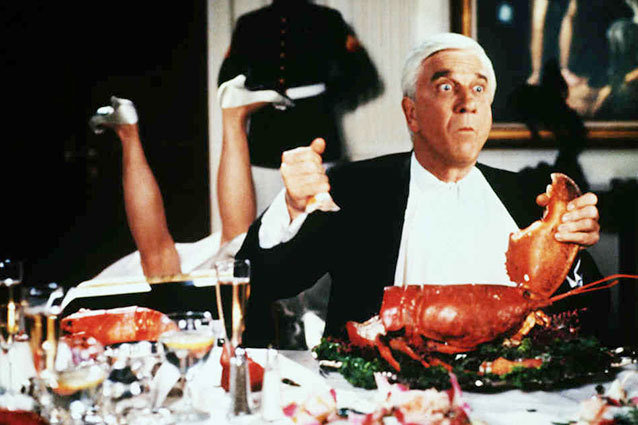 With Scary Movie V in the can, Zucker is ready to get back to the movie he originally intended to make before the Weinsteins rang him up. He says it will take its cues from The Naked Gun. "The Naked Gun style is a sane way of doing a movie," he says. He hopes to direct his next script, which preys on popcorn movies in a method akin to his police spoof series (a Bourne-style update, anyone?). He also sees potential in reviving Naked Gun.
"You could do another Naked Gun, with a reboot. Like Star Trek," Zucker says. The immediate retort is, really, how could anyone live up to Leslie Nielsen? "There are people who can do that and they're not famous. You wouldn't know who they were. But I know actors who can do it. Again, I think Paramount has an international brand in Naked Gun and I think there's something you can do." For now, he hopes to revive the spirit of Naked Gun rather than the actual property. "There's room for a Naked Gun style. A bumbling guy in a position where he's respected. Leslie Nielsen played Lieutenant Frank Drebin and nobody seemed to have a clue that he's an idiot. I want to do the character, but not the specific [job]. Not Naked Gun."
Zucker thinks Scary Movie V survived the turbulent process of tinkering on the fly. He came to the movie prepared to break it, start over, reconfigure, and put it out into the world while looking forward. It's in the rules. "That's another glossary term we have: 'Apollo 13,'" he says. "When your spacecraft is in trouble and you have to get it back alive. So you use spare parts and do anything that you can to save it." So however Scary Movie V is received, he's ready to go back to the drawing board and make new movies. "One of the important things is not to blame other people for your failures (and that goes for regular life too). If a movie tanks, you have to look at what you did and figure out what happened."
Follow Matt Patches On Twitter @Misterpatches
More:
'Scary Movie 5': Charlie Sheen and Lindsay Lohan Jump in Bed — TRAILER
Surely We Didn't Talk to Robert Hays About The 'Airplane!'
In The Event Of These Airplane Movie Emergencies…
[Photo Credit: Universal Pictures]
---
From Our Partners:


Eva Longoria Bikinis on Spring Break (Celebuzz)


33 Child Stars: Where Are They Now? (Celebuzz)