5 Scenes We Can't Wait To See In The NC-17 Version Of 'Fifty Shades Of Grey'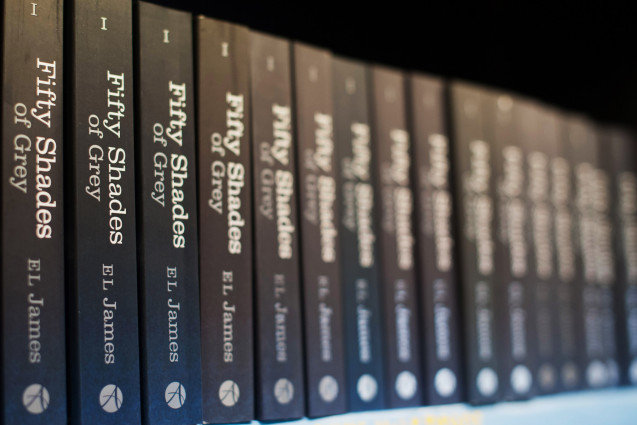 Will Oliver/AFP/Getty
Fans of the Fifty Shades of Grey trilogy heard some pretty awesome news the other day. Producers of the film adaptation have revealed plans to make two versions of the movie – an R-rated version for the masses and one rated NC-17 for the superfans. This announcement answered the one question that we've all been asking since the movie rights were first sold: how are they gonna show all of the good stuff?! And now it looks like they've found a way. As we impatiently await the February 13, 2014 release, here are a few scenes we hope make it to the NC-17 cut.
The Silver Balls
Okay, that scene where Christian is spanking the bejeezus out of Anastasia, shortly after Anastasia places the silver kegel balls in her let's just say nether regions? Yes. We're going to need to see that in the NC-17 version, please and thank you.
The Red Room Of Pain, Riding Crop Edition
Right after Anastasia had her magical birth control appointment, she and Christian went back to his house, had a Caesar salad, and then he spanked her with a riding crop in the red room of pain. Oh, he also has sex with her while she's in these shackles that actually move across the room. That should make it into this scene as well
The First, Um, Moment Of Oral Contact
We can pretty much guarantee that Anastasia's first trip downtown is not going to make it into the rated-R version of this movie. But c'mon. We have to see the scene in which Ana makes reference to her own "Christian Grey-flavored popsicle." Yassss.
That Ice Cream Bit
We've all had fantasies of being covered in vanilla (or chocolate chip cookie dough, whichever) ice cream and getting, er … sampled … from head to toe. And even if you haven't had that fantasy, there's a good chance you will if you get to see Jamie Dornan and Dakota Johnson acting it out.
Yes, The Feminine Product Scene
It doesn't get much more NC-17 than Christian pulling out Ana's tampon, tossing it in the toilet (he's so badass – he breaks all the rules), and ravaging her inner goddess while she holds on to the bathroom sink for dear life. Yup. We want to see that on screen. Judge us if you will.