Scenes To Look Forward To In 'August: Osage County'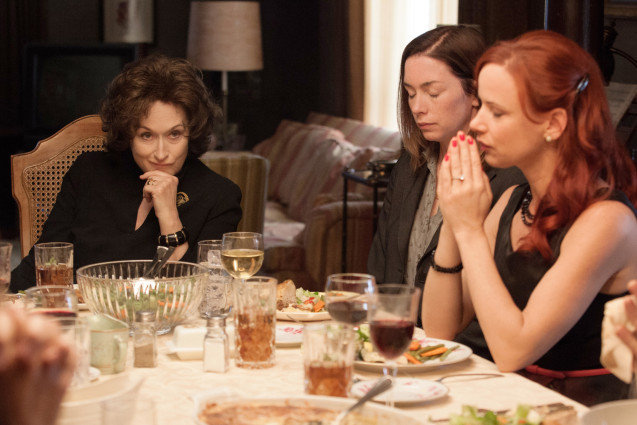 The Weinstein Company
The ultra star-studded August: Osage County, slated to be released on Christmas Day, already has critics buzzing. I haven't yet had the privilege of seeing the film, but as it's adapted from Tracy Letts' smash-tacular Tony Award-winning play, I'm betting high on it. Here are some scenes in particular to look out for:
* There's a lovely confrontation (is that an oxymoron?) between Barbara (Julia Roberts) and Violet (Meryl Streep) near the beginning of the play. I'm withholding judgment on Julia, but I think we can all agree that Meryl will blow the roof off pretty much any scene she's a part of.
* I'm sure watching Violet and Mattie Fae (Margo Martindale) grill Ivy (Julianne Nicholson) about her love life will be delightful. Talk about scary: can you imagine Meryl Streep and Margo Martindale joining forces against you?
* The infamous dinner scene in Act Two features three simultaneous conversations, and a LOT of drama. If the posters and trailers are to be trusted, we'll be seeing a full-on brawl featuring Meryl Streep.
* Without spoilers, at some point in the play, Little Charles (AKA Benedict Cumberbatch) will most likely utter the words "I adore you." If that's not something to look forward to, I don't know what is.
* The three Weston sisters, Barbara, Karen (Juliette Lewis), and Ivy all have a great scene together in the beginning of Act III – subject matter includes filial duty, Mom and Dad's favorite children, and … incest. Well, this is the story of a capital-d Dysfunctional family.
* Watching Steve (Dermot Mulroney) creep on Jean (Abigail Breslin) will most likely be cringe-worthy on the highest level possible. But unsavory or not, their scenes together are sure to be horrifyingly engrossing (like a car crash).
As you can see, there's a lot to look forward to in this film – if the movie adaptation's even half as good as the play, we're all in for a treat.