SDCC 2011: Sony's 'Arthur Christmas' and 'The Pirates! Band of Misfits' Visit The Con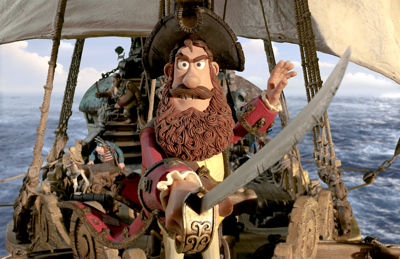 Sony Pictures Animation shined in Hall H this Thursday at Comic-Con, showcasing the high-energy products of the company's collaboration with Aardman Studios. We got a first look of the upcoming animated Sony films, Arthur Christmas and The Pirates! Band of Misfits.
Arthur Christmas is a melding of holiday magic and the classic underdog story: Santa's bumbling but good-hearted young son Arthur must come to Christmas' rescue when the season goes awry. Playing Arthur is James McAvoy, and as his far-more-adept older brother Steve is House's Hugh Laurie. The preview alone leaves us thrilled for the upcoming production, and the footage we saw today is no different.
The Pirates! Band of Misfits is in the style of Aardman's iconic Wallace and Gromit series; the kooky seafaring stop-motion comedy starring Hugh Grant as a Pirate Captain whose incompetence renders him far less menacing to the open waters than he would have you (or himself) believe.
Producer on both films Peter Lord and Arthur co-writer Peter Baynham were here to discuss both films.
*Keep checking back for live updates!*
The eye-popping 3D trailer for the The Pirates! Band of Misfits was festive and fun, with plenty of scallywag jokes and tonal playfulness. Hugh Grant actually doesn't sound much like himself, getting further into a character than perhaps he ever has. Martin Freeman's character represents the true spirit of the pirate, though he's no Blackbeard. Pretty much everything you'd expect from the makers of Wallace and Gromit: lots of wit, colorful stop-motion animation and some memorable characters voiced by the likes of Jeremy Piven and Salma Hayek.  
Peter Lord went on to introduce each and every character, including those played by Brian Blessed, Imelda Staunton and David Tennant. He had physical miniatures of every Pirate and royal character that will appear in the film. Lots of great things to say about the cast.
He next showed a clip that showed what it is like to work on a stop motion film, and though that was interesting to view, what was cooler was how it revealed the scope of the movie. We will see many environments and set-pieces, from a whale crashing into a port to a ship sailing through the high seas with photo-realistic water. What impressed me most was how CG elements and stop-motion worked together to create cohesive and authentic imagery. Excellent stuff.
After Pirates, Arthur Christmas was the focus. We'd already seen the trailer to the film, that's nothing new. But co-writer Peter Baynham showed us concept art including character renderings of the characters in the film, voiced by everyone from Bill Nighy and Jim Broadbent to James McAvoy. We saw a great clip that showed the elves and Santa dealing with a crisis in the field, it was kind of reminiscent of The Santa Clause, but much more militarized.
Arthur Christmas hits theaters this November and Pirates! sails into theaters in March 2012.