SDCC 2011: 'The Adventures of Tintin' Panel & Footage Description!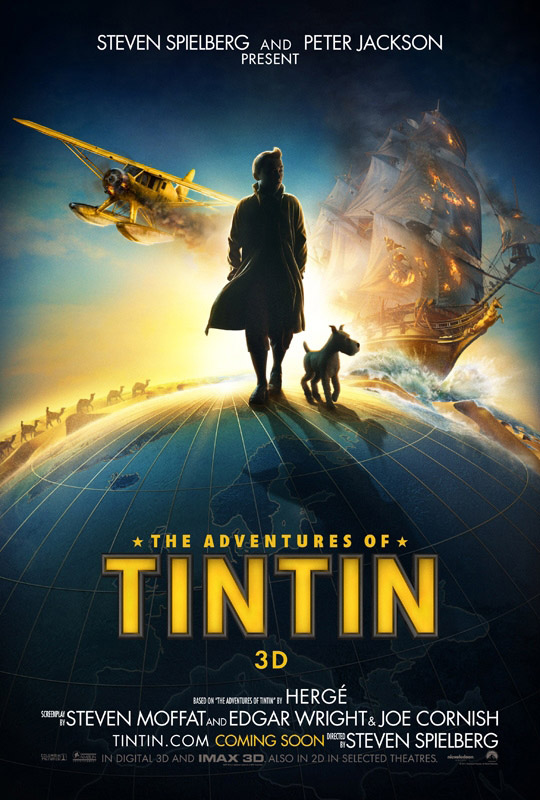 Steven Spielberg – the name conjures images of killer sharks, pulp action heroes, life-sized dinosaurs and little green men, but also carries a signature of prestigious and profitable entertainment that has made the 64-year-old director/producer one of the most lucrative brands on both the small and big screen. However, even after making movies for over 35 years spanning nearly every genre within the medium, the auteur found himself in dire need of a new challenge a few years back. 
He found it in The Adventures of Tintin, an adaptation of Belgium's number one comic book by famed creator Herges, and for the first time the grand master of adventure cinema has trekked to San Diego Comic-Con to convince the world that his movie's going to be one hell of an animated ride.
Here are our live updates from the presentation:
Steven Spielberg walk out to a outstanding ovation and receives the Ink Pot Award for Achievement in Film. "I wouldn't be here if it wasn't for you,".
Where did it begin with Tintin? French journalist who reviewed Raiders kept comparing the film to Tintin and so Spielberg read the story and was hooked. The director calls Tintin the "cousin" of Raiders.
Spielberg mentions that, even with motion capture, you still need to cast great actors. Had to decide whether to do a digital dog or shoot the film live. They did a test of the digital and are showing clip.
Peter Jackson appeared at the panel as a surprise guest and rouses the crowd by saying, "Spielberg shows promise." They wanted to make the movie look like the drawings in the Herge books. Jackson: "they wanted it to have a texture and level of detail so that it almost looks like live-action.". To create a hybrid of live-action and motion capture, sets were built over a 2 to 3 year period. It's a film that Spielberg actually shot. Spielberg had the virtual camera in his hands while looking at a screen on set and getting the shots—he calls it "a direct to canvas" method of filmmaking. Peter Jackson looked at all the books before he they started. He said the books read almost like storyboards.
Footage shown: clip in 3-d lots of action, bullets flying….Fist fights and Indiana Jones style music cues. Snowy the Dog is cute and expressive. Major at -sea action. Motorcycle with sidecar chase scene as well.
After the footage ended, Spielberg explained that they "filmed the movie like a live action film, but using a virtual controller". The film employs lots of shots that look hand held, steaddicam etc.
On the casting, Spielberg said Jamie Bell is Tintin through and through, while Jackson praised Nick Frost and Simon Pegg as the film's detective brothers "you could only do in motion capture."
While the decision to make Tintin animated as been a controversial choice, Spielberg and Jackson both seem to agree it was the right move, but as an important cap to the conversation, Spielberg does mention that, "motion capture is not appropriate for every film." Fair enough.
That's that for Tintin talk—now we have to wait five months to see it in theaters!