SDCC 2011: 'The Raven' & 'Haywire' Panel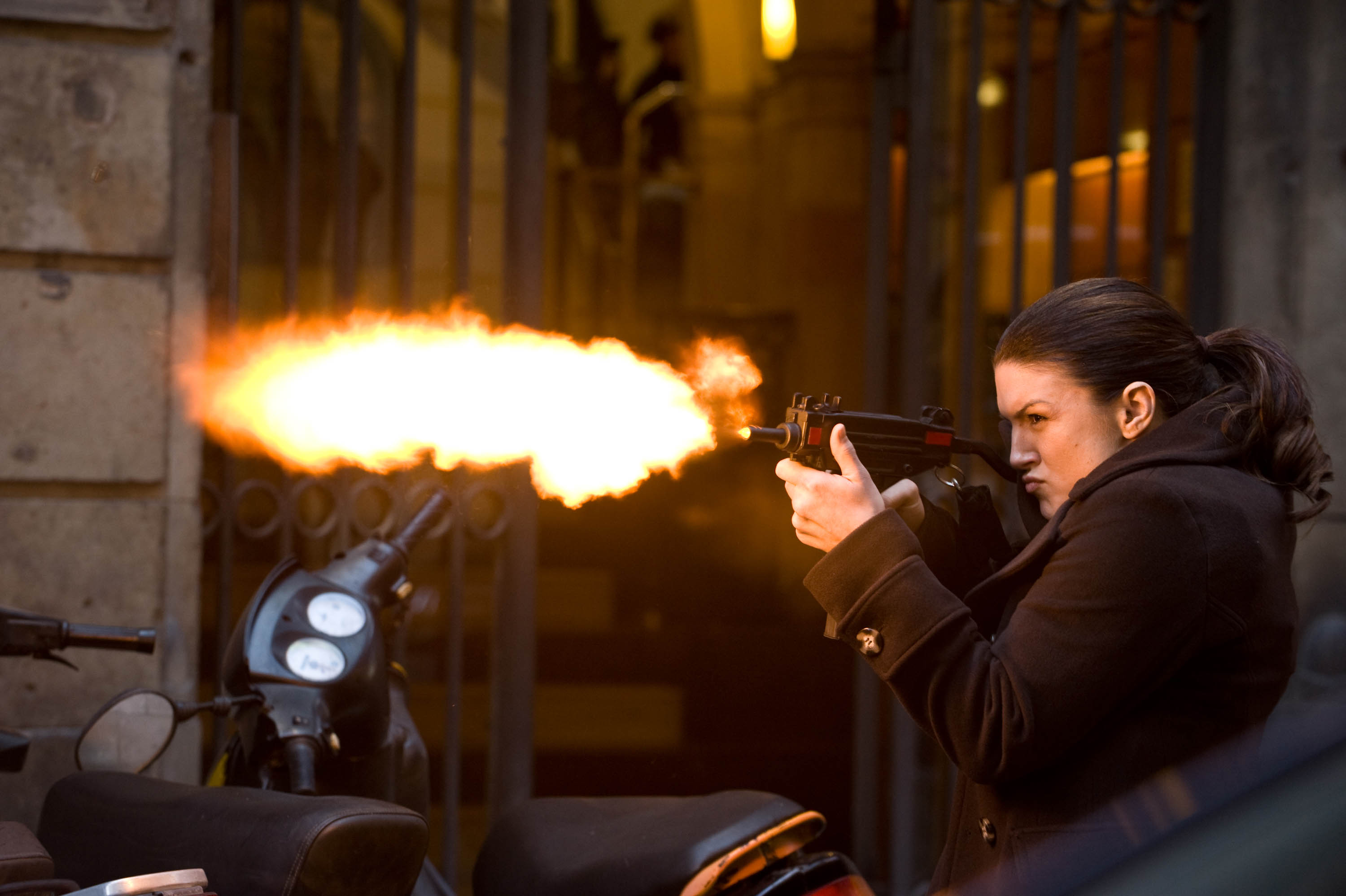 Two big movies debuted their first footage at SDCC 2011 and we were right there to witness the action first-hand. The first is John Cusack's new movie The Raven. Cusack plays Edgar Allen Poe who teams with a Baltimore detective to hunt down a serial killer who uses Poe's writing as inspiration. The flick also stars Luke Evans and Alice Eve (hubba hubba). The other big movie Relativity Media showed off was Steven Soderbergh's big action film Haywire that follows a spurned spy on a revenge mission. This movie marks the feature debut of MMA fighter Gina Carano (a hubba hubba would be appropriate here too but she would probably break us in half) and features Michael Douglas, Michael Fassbender, and Ewan McGregor.
Here's what we saw at the panel:
Haywire was developed after Soderbergh saw Gina on TV and wanted to create a vehicle around her and create a female character who performs for real on camera with no stunt doubles.
Gina now appreciates what actors "go through." Her character is a special ops person and she gets things done. She's double crossed by her team and has to fight to get her life back. Her character's father was in the military.
The film opens with her character meeting Tatum's character for the first time in a diner. From there, the story backtracks to everything that led up to the diner. Then,the second half the story starts back up in real time.
Soderbergh insisted on realism in the fight sequences. He shows off a fight sequence with Gina and Michael Fassbender. Absolutely brutal fight scene with Gina and Michael destroying a hotel room during the course of the one on one brawl. Breathtaking.
Gina says the fight scenes were like a dance, and the fight with Fassbender she liked getting banged around and then blushed and laughed.
Soderbergh says directing "is a good job," and that sMatt Damon is as discreet as a 14-year-old girl in regard to Damon saying Soderbergh said he is going to retire. Soderbergh says that story was overblown.
Next up, The Raven!
They first played the trailer for the movie. The movie is a fictionalized account of the last 5 days of Poe's life. Trailer was frenetic, gruesome in spots and showed great period detail.
Cusack as Poe played him in a unique way. Apparently he did his research and Poe was world famous, had a big ego and had charisma. Cusack said Hunter S. Thompson and Poe have similarities.
In the movie the killer is sort an admirer of Poe, which leads Poe to be framed for murders.
Actress Alice Eve had to play a person buried alive and had to eat lots of dirt during filming.
Luke Evans plays Fields. Poe and Fields have a Holmes and Watson relationship. They wanted to bring authenticity to the story.
Cusack: "Poe had strange relationships with the women in his life. He held females in high esteem and did not like the company of men. Women would swoon over him, he was sort of a bad boy but not in an obvious sense."
What writings of his did the filmmakers turn to, Peter Aykroyd's Poe: A Life Cut Short was one reference work.
That about wraps it up. Old school action and new age thrills—can't wait to see these movies next year!