SDCC 2011: 'The Twilight Saga: Breaking Dawn Part 1' Panel & Footage Description!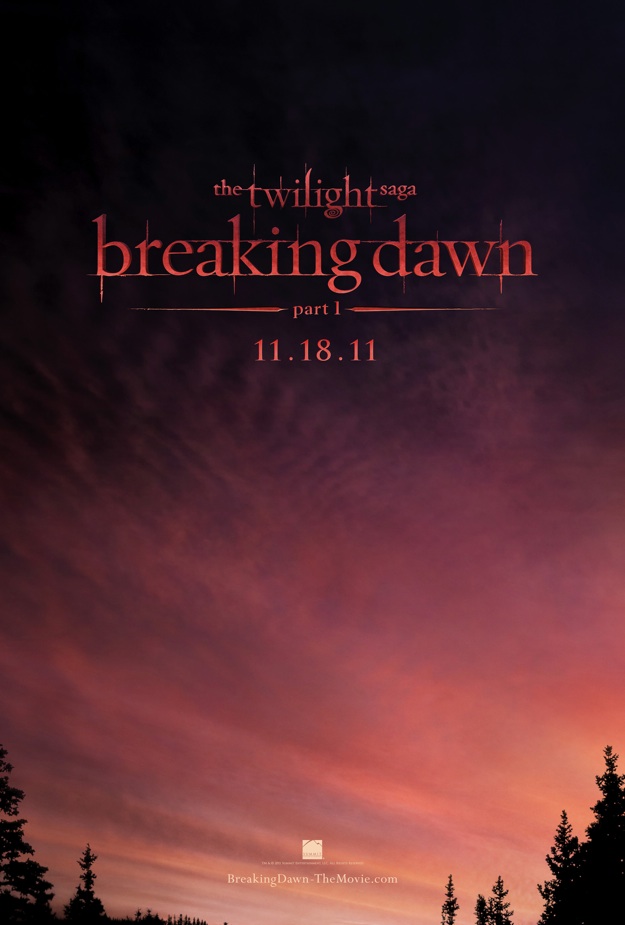 At the 2008 San Diego Comic-Con, fanboy met fangirl when Twilight invaded Hall H for the first time, but it wouldn't be the last. Stephanie Meyer's supernatural love story proved as addicting to female audiences as Batman and Superman comic books were to males and before you know it, the Con had a new mainstay. Hollywood also had three new mainstays as The Twilight Saga made movie stars out of Robert Pattinson, Kristen Stewart and Taylor Lautner, who were all present at today's panel for the fourth film in the franchise, Breaking Dawn Part 1 (as with Harry Potter and the Deathly Hallows, this was the final book in the canon, but will be split into to movies with the last chapter coming November 2012).
Team Edward vs. Team Jacob discussions abound, Hall H is filled nearly to capacity for the much anticipated arrival of the cast and crew behind one of this winter's most anticipated films. As director Bill Condon took the stage to introduce the very first look at the film, thunderous applause followed, but nothing compared to what happened when the holy trinity of stars joined. But on to the footage!
*Keep returning to the site for instant updates as the panel continues!*
The first scene shown involved a conversation between Jacob and Edward's parents Carlisle and Esme. They discussed keeping Bella safe and tensions were high as Jacob continues to not trust the Cullen's. The second scene followed Jacob as he talks with his estranged werewolf family. They do not respect or trust him anymore as he is aligned with the vampires now, but he swears he will keep Bella unharmed.
The third clip was decidedly less serious: following Edward and Bella as they enter their honey moon suite and think curiously about the debauchery that will follow.  Edward wants to jump into the rough stuff, but Bella wants to make things as picture perfect as possible and says she'd like to shower first – "I need a few human moments," she says. Edward proceeds to take his clothes off and head to a romantic beach outside their honeymoon shack. Bella channels Michelle Pfeiffer in One Fine Day and showers, shaves her legs, brushes her teeth and contemplates what lingerie to wear before simply joining her husband on the beach, removing her towel and entering the water.
On shooting the wedding: "I've been waiting four years to film that scene" – Kristen Stewart
On the series as a whole: "I'm very grateful for what Twilight has done for me" – Taylor Lautner
On the scenes that they are most excited for audiences to see: "I've got to give Bill some major credit here: The birth scene is phenomenal!" – Taylor Lautner
On working with beautiful women like Nikki Reed and Kristen Stewart: "Every way you can appraoch this answer is either inappropriate or wrong (laughs) – it's the greatest thing in the world. That's why i became an actor!" – Robert Pattinson
On telling a far-fetched and fantastic story: "This film feels the most real, in terms of what can really happen in your life." – Kristen Stewart
On fight scenes: "My fight scenes – I'm usually a wolf (laughs). It's a bummer because I wish I could do what my CGI wolf does" – Taylor Lautner
On the growth of their characters: "It's always been fun playing Alice but the nice part is that throughout the series you get to see her defend her family which you don't see in the first film. In Breaking Dawn she's kind of at her peak." – Ashley Greene
On the growth of their characters: "Bella and Rosalie really connect in the film. It was nice to have Rosalie happy for five minutes" – Nikki Reed
On having the movies be as close to the books as they can: "Having Stephanie Meyer there was crucial" – Bill Condon
On what they'll miss most now that filming is complete:
"We had some really special moments together and I'll miss that community feeling" – Nikki Reed
"I'll miss getting up for work at 4AM and eating jalepeno cheese for breakfast. No seriously you don't get experiences like this often in your career and I will truly miss that, working with great directors and people." – Liz Reaser
On their favorite films in the saga: Lautner – "Breaking Dawn 1 though I loved the book Eclipse" — KStew — "Twilight was something different but I love the book New Moon"
Lots of hype surrounded this introductory panel at the 2011 SDCC; almost as much as that which will follow Breaking Dawn Pt.1 into its November 18 2011 release. Make sure you catch the film, which co-stars Jamie Campbell-Bower, Dakota Fanning, Ashley Greene, Anna Kendrick, Nikki Reed, Maggie Grace, Jackson Rathbone, Kellan Lutz, Billy Burke and more.