Sean Penn and Josh Brolin Gun Up the Action in 'Gangster Squad'
Have you ever taken your jacket out of the closet and found twenty dollars in the pocket that you had forgotten about? That's how I felt today when I came across the below image of Sean Penn and Josh Brolin in the upcoming movie Gangster Squad. Several months ago, when Gangster Squad casting news was popping up every day, I couldn't possibly have been more excited for the movie. After a while, news began to slow down, and eventually I forgot about the movie altogether, feeling just a strange, blank vacancy of spirit. But thanks to Entertainment Weekly and Louis-Jacques-Mandé Daguerre (widely attributed as the inventor of the first photographic device), we can all bounce back to the highs of Summer '11, and celebrate the coming of Gangster Squad.
Below is a picture from the film of Penn, playing the nefarious 1940s criminal Mickey Cohen, staring down the business end of a didactic L.A. police officer's (the great Brolin) gun. Brolin will be just one of many impressive players to square off against Penn in Gangster Squad. Others, on either side of the law (sometimes it's hard to tell), include Ryan Gosling, Emma Stone, Anthony Mackie, Nick Nolte, Michael Peña and Giovanni Ribisi.
Gangster Squad opens Oct. 19, 2012. We might forget about it once more, but think of how thrilled we'll be when the trailer comes out to remind us!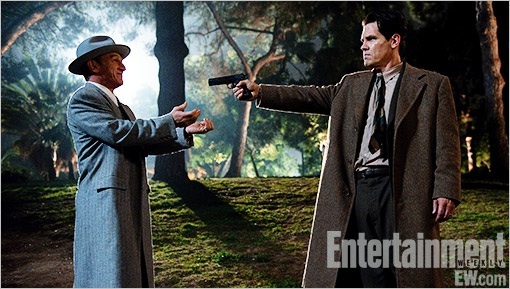 Source: Entertainment Weekly