See Eye-Popping Artwork from the Tarantino XX Blu-ray Collection — EXCLUSIVE
Known for his inventive, colorful style, Quentin Tarantino is often cited (and rightfully so) as one of the defining voices of modern cinema. His profanity-laden dialogue and bloody sensibilities may not make his oeuvre everyone's cup of tea, but there is no denying the man has an eye like few others.
Fitting then that the upcoming box set Tarantino XX: 8-Film Collection Blu-ray — which sports Reservoir Dogs, True Romance, Pulp Fiction, Jackie Brown, Kill Bill Vol. 1, Kill Bill Vol. 2, Death Proof, Inglourious Basterds, and two discs with five hours of all-new bonus material — would present itself in an equally stylized fashion. The cover and interior of the set debuts stunning new artwork from artist Ken Taylor, whose work has been previously utilized by the Mondo poster company. Hollywood.com is exclusively premiering one panel of the six-part fold out, a Pulp Fiction-themed section that should sufficiently strike down upon thee with great vengeance and furious anger. True Tarantino style.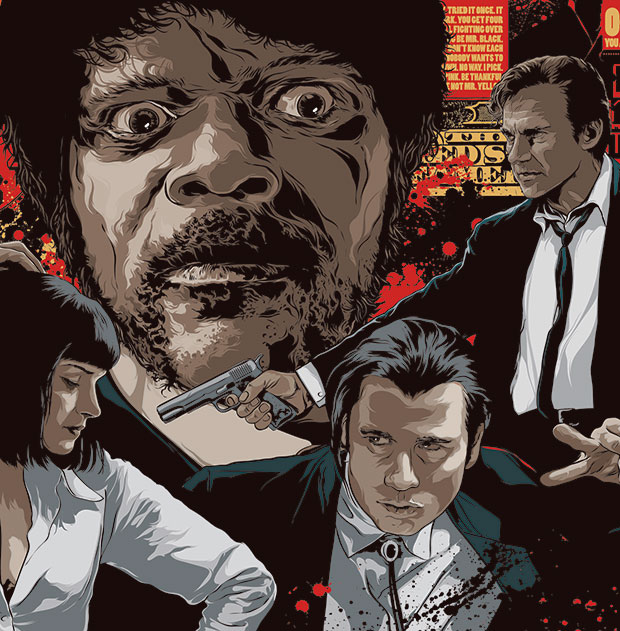 Follow along this week as twenty years of Tarantino's filmmaking career are revealed in amazing panels from artist Ken Taylor's interior box set mural! Be sure to visit each of the participating sites as characters from Pulp Fiction, Jackie Brown, Inglourious Basterds and more get the Mondo treatment in celebration of the Tarantino XX: 8-Film Collection Blu-ray on November 20th!
To see the other reveals, head over to these sites:
Monday: Slashfilm.com
Tuesday: AOL Moviefone.com
Wednesday: MSN Movies and IGN.com
Thursday: Yahoo! Movies
Follow Matt Patches on Twitter @misterpatches
[Photo Credit: Lionsgate Miramax]
More:
'Django Unchained': The Highs and Lows of a Tarantino Movie — TRAILER
Comic-Con 2012: 'Django Unchained' Star Jamie Foxx Calls Tarantino a 'Hip-Hop Artist'
Comic-Con 2012: 'Django Unchained' Shows Off Bloody Fun with Oscar Potential

Jennifer Lawrence Bikinis in Hawaii: Her 15 Sexiest Pics

Remembering Larry Hagman, 'Dallas' Star Dead at 81