See Ralph Fiennes vs. Gerard Butler in First 'Coriolanus' Poster
While many scholarly types find the iambic pentameter of Shakespeare to be engaging and poetic, others (mostly high schoolers, believe or not) find it a tad…stuffy. Not many young people are committing double suicides with their forbidden lovers these days. That's why a modernized version of the Bard's work is always welcome: the Shakespeare buffs get a thrilling adaptation and the disinterested have visuals to cling to—everyone wins!
The latest play to get the cinematic treatment is Coriolanus, which focuses on the titular Roman general as he moves up the ranks and finds himself turning to his greatest enemy for help in ruling his city. But you won't find swords and sandals here: actor-turned-director Ralph Fiennes (Voldemort in Harry Potter) has turned Coriolanus into a gritty, brutal arena of modern warfare, and chosen Gerard Butler to star against him as the main character's rugged foe.
The first poster for the film has debuted and they make it clear that you can forgot the Cliff Notes. This is the Shakespeare you need to see/live/breath this Fall.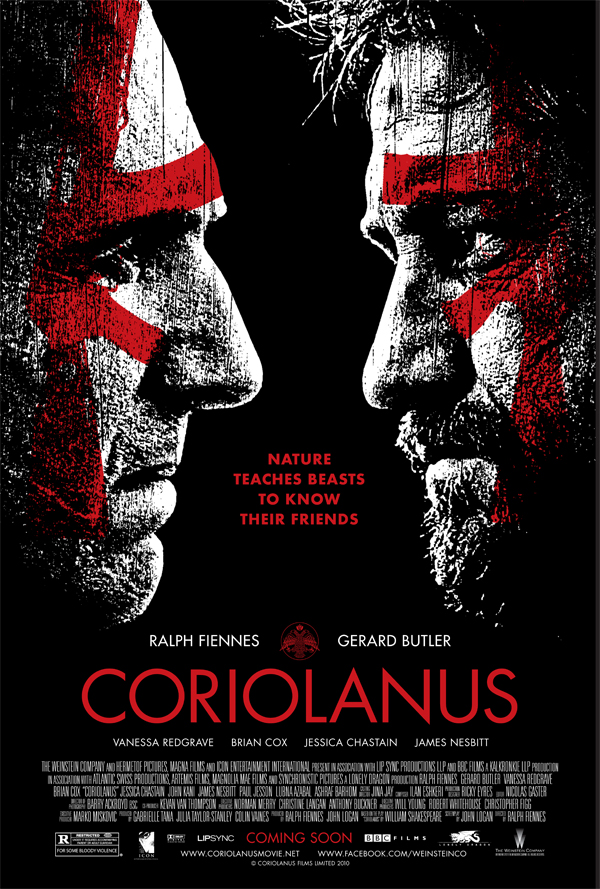 Source: The Hollywood Reporter