SXSW: Anna Camp and Ashley Williams Try to Destroy Reality TV in 'Sequin Raze'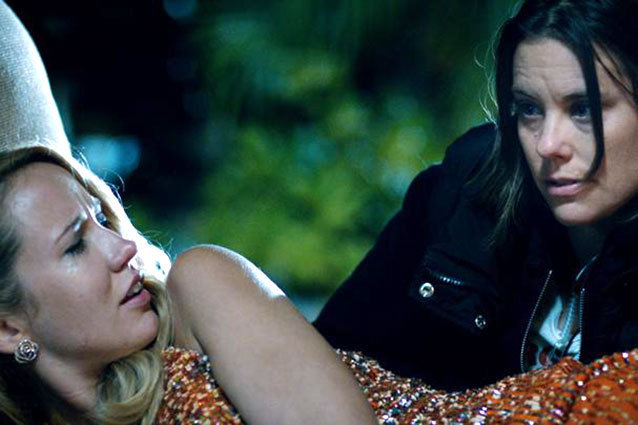 One of the short films debuting at the 2013 SXSW festival in Austin this year, Sequin Raze tries to get to the gritty, oft depressing under belly of reality dating shows like The Bachelorette. The always-great Anna Camp (from Pitch Perfect, True Blood, and The Mindy Project) plays a dating show contestant who has just been dumped by her televised suitor, all for the amusement of a national audience. 
RELATED: SXSW 2013: Our 5 Must-See Movies
The long-underrated Ashley Williams (How I Met Your Mother  and Something Borrowed) plays the exhausted producer, who despite being entirely aware she has sold her soul for the sake of a soulless television show, does everything in her power to get the sobbing concession speech she needs from her rejected contestant. A battle of wits unfolds, with the audience never knowing who to really root for in this situation or to believe. Is Camp's beauty queen really as crafty and smart as she seems, or is she as broken as all the other women who appear on these shows? Is Williams' tattered producer as empathetic as she seems, or does she play up her feelings in order to get that money shot? 
RELATED: The 2013 SXSW Film Lineup 
Sequin Raze doesn't really answer any of those questions, though it does put the sick, sad world of reality television dating — and what it does to one's psyche — under a much-needed microscope. Camp and Williams are both effective and believable in their respective roles (their television experience shines through, making the most of a short period of time), but unfortunately, Sequin Raze only scratches the surface of its story and under-utilizes having Frances Conroy, who plays another blood-hungry reality television producer, at their disposal. Though a fascinating slice of Americana and keeps you wondering who will win their emotional and mental tennis match, other SXSW shorts may find themselves getting a rose from moviegoers instead of Sequin Raze.
From Our Partners:


Kim Kardashians Best Bikini Moments (PHOTOS)

Brooke Mueller Overdose? Rep Speaks About New Drama For Charlie Sheen's Ex