Seth MacFarlane Will Not Host the Oscars — So Who's Next?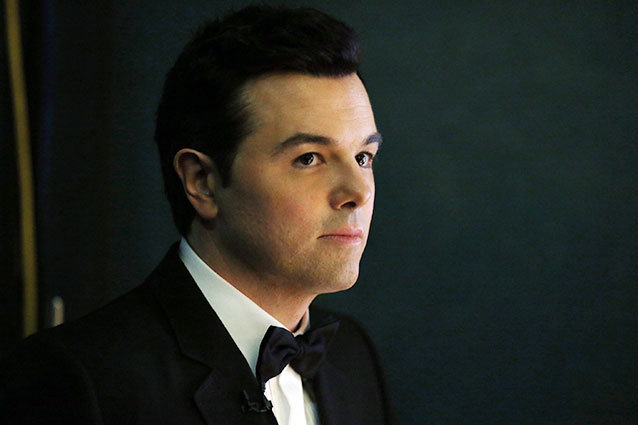 Good news for those who thought Seth MacFarlane's delivery of breast-centric musical numbers and presidential assassination jokes were tacky and tasteless; bad news for anybody who loves a good von Trapp gag: the Family Guy creator and Ted writer/director will not be hosting the Oscars next year, or ever again.
RELATED: Seth MacFarlane's 10 Best Jokes from the Oscars
As has been the case of every marginally successful Academy Awards delivery, speculation had amounted following the show over whether MacFarlane would host again. But the musically-inclined comedian announced on Twitter Tuesday morning that he would not be reprising his role center stage.
RT @crusephoto: @sethmacfarlaneWould you host the #Oscars again if asked? // No way.Lotta fun to have done it, though.

— Seth MacFarlane (@SethMacFarlane) February 26, 2013
The Academy might actually take this as a bit of bad news — despite MacFarlane's controversial material and a Cloud Atlasian runtime, the show mustered some pretty high ratings, especially among young viewers. So who can they get next time around to rival MacFarlane's intake?
RELATED: Oscars 2013: The Best and Worst Moments
Clearly, people like musicals, so we'll need someone who can handle a tune. Also, fans seemed to be into the whole Star Trek shtick, so perhaps another fan of the franchise. And it didn't seem to hurt matters that MacFarlane has a long-running comedy series on a Top 4 network. Add all these together and you've got…
Jim Parsons. Wait, maybe we can do better than that. Okay, musically inclined + high rated network sitcom from the last few years – Star Trek humor + propensity for racy material…
Charlie Sheen. Um, one more shot. Let's go for broke this time. Musically inclined (even marginally!) + racy material (even offscreen!) – network sitcom and Star Trek + has been in a recent movie with CGI characters…
Shia LaBeouf. Oh forget it. Let's just get Neil Patrick Harris and call it a day.
Follow Michael Arbeiter on Twitter @MichaelArbeiter.
[Photo Credit: Christopher Polk/Getty Images]
---
From Our Partners:


40 Most Revealing See-Through Red Carpet Looks (Vh1)


33 Child Stars: Where Are They Now? (Celebuzz)