Seth MacFarlane's Oscars Opening: Half 'Family Guy,' Half Showstopper, All Solid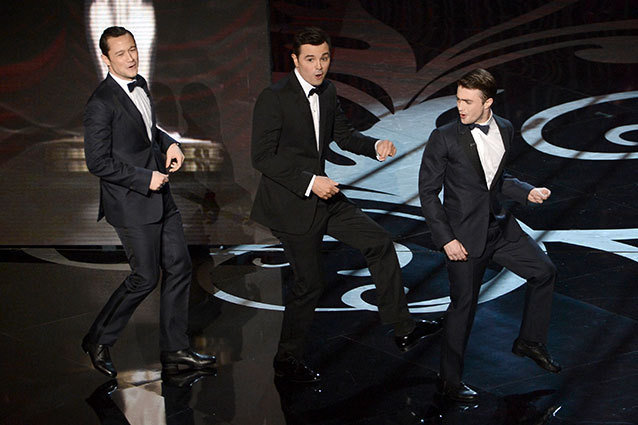 On paper, no entertainer working today fit the Oscar host bill quite like Seth MacFarlane: He's the mastermind behind Family Guy, the animated sitcom that's hooked millions of young audience members; he's successfully ventured into films with his mega-hit, R-rated comedy Ted; and he's a performer at heart — one who can rattle off-topic, risqué jokes while paying homage to the Golden Age of Hollywood. (Did we mention he cut a big band crooner album in 2011?) MacFarlane is a natural born showman who has never been given a stage.
RELATED: Oscars 2013: See the Winners!
So it makes sense that producers Craig Zadan and Neil Meron would hand over Oscar duties to a Renaissance man like MacFarlane. Going into the 84th Academy Awards, it was clear that the Broadway-inclined Zadan and Meron wanted a show that felt like a show. There were dance numbers planned, hints of a musical extravaganzas, and the promise of a full-fledged song-and-dance man in the leading role. The duo knew that by hiring MacFarlane, they would have a host who would pull out all the stops. Even if you don't enjoy his humor, MacFarlane isn't the type to phone it in.
But was "pulling out all the stops" what the Oscars needed?
Well, it certainly helped. MacFarlane took the stage like hosts of years past, ready to lay down one-liners and roast the Oscars' nominees. He started off with just enough inside baseball to land a joke that played to the in-house audience and the one billion people watching at home. "Quest to make Tommy Lee Jones laugh begins now." And he succeeded! The cranky Lincoln costar cracked a smile and got a huge laugh from the theatre. A good star for MacFarlane.
MacFarlane's zinger-filled intro only got better. From a jab at the Academy for snubbing Ben Affleck to a "remember that guy?" nod to 2012's Best Actor winner Jean Dujardin, MacFarlane kept the jokes coming and straight down the middle — fears of racy humor quickly dissipated. MacFarlane's biggest issue was contending with the assault of humor flooding the web via Twitter. His Daniel Day-Lewis/method acting joke about cell phones felt… old. Blame it on the comedians who can react in real time on everyone's favorite social media tool. But MacFarlane was always ready to shake any flops away — name-dropping Rihanna and Chris Brown quickly sent the room into a fit of laughter. Mission accomplished.
A few minutes into MacFarlane's bit, the most MacFarlane-y moment occurred: William Shatner interrupted the monologue in character as Captain Kirk, with a message from the future. Apparently, MacFarlane's planned opening flops with the critics. So everything he's about to do, he has to scrap. Kirk has taped evidence. The show cuts to MacFarlane in an extravagant musical number. "We Saw Your Boobs" runs down all the actresses in the audience who have revealed it all on camera. This is the MacFarlane R-rated humor we were all anticipating.
RELATED: William Shatner Makes History at Oscars
It ends up working quite well. With a pre-recorded segment, MacFarlane worked the women of the Oscars into his bit — Jennifer Lawrence cheering when MacFarlane announces that she's never bared her breasts in a movie might be the high point of the evening — and integrated his signature style. The "time travel" element may have been incredibly geeky (and really, MacFarlane needed a way to inject a dose of nostalgic pop culture into the mix), but it gave him the ability to jump between raunchy comedy and pure classy musical numbers. Tapping into his love for the old school, MacFarlane balanced his ridiculous song and dance with a number of Channing Tatum and Charlize Theron ballroom dancing and a trio musical number between MacFarlane, Joseph Gordon-Levitt, and Daniel Radcliffe.
Everyone won with this year's opening. Hollywood fans saw major stars strut their stuff under MacFarlane's swinging vocals, and fans of Family Guy saw their patron work his magic in bits like the sock puppet remake of Flight or the random Sally Field/Flying Nun backstage sketch. The funniest opening in Oscar history? Far from it, but MacFarlane clearly has an understanding of what an Oscar host needs to accomplish in an intro and a respect for the art of pulling it off. His act wasn't terribly far off from Academy Award go to Bob Hope — it was a straight down the middle performance that simultaneously mocked Hollywood and embraced it. MacFarlane has the musician's edge too. The producers didn't have to force him into a dance number. He wrote them in himself.
MacFarlane may take heat for not playing it as risky as he could. But it only works out for him in the end: on Oscar night, he delivered the kind of opening that gets a host invited back.

[Photo Credit: Kevin Winter/Getty Images]
Follow Matt Patches on Twitter @misterpatches
---
From Our Partners:


40 Most Revealing See-Through Red Carpet Looks (Vh1)


33 Child Stars: Where Are They Now? (Celebuzz)
---
Oscars 2013 Special Coverage
---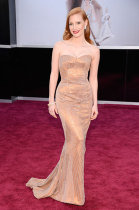 Oscars 2013 Red Carpet Arrivals: PICS!
• Anne Hathaway: Oscar's Worst Dressed?
• 15 Oscar-Winning Nude Scenes
• The Worst Best Picture Winner Ever
• Oscar's Problem With Pretty Boys
• Why Stars Should Fear Seth MacFarlane
• Oscars 2013: The Full Winners List
• The Winner, According to You