Seth MacFarlane Says Non-TV-Friendly 'Family Guy' Movie is (Probably) Happening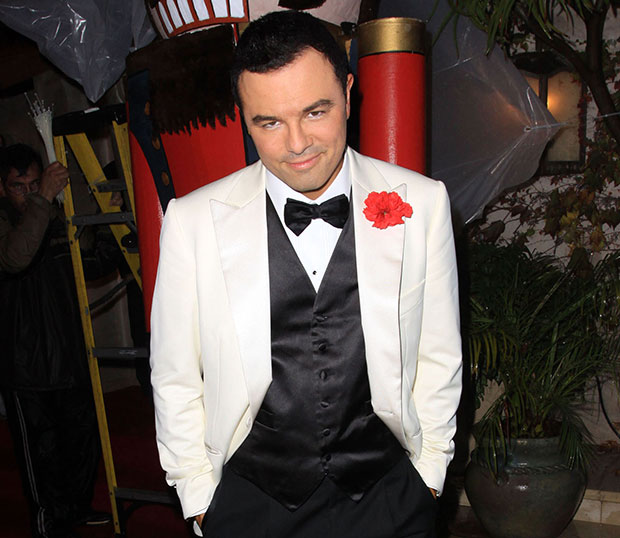 Considering the long-term success Seth MacFarlane has found with Family Guy — not to mention the fact that his feature film debut, Ted, performed so well over the summer — it makes sense that the multi-hyphenate would find a way to bring his animated hit to the big screen. MacFarlane has finally confirmed that a Family Guy movie is really, truly happening. (Probably.)
In a visit to UCLA filmed for the mtvU series Stand In, MacFarlane told a class full of college kids that the only obstacle he's facing in making the movie is time, reports Entertainment Weekly, who observed his guest lecture at the university. "It's just a matter of when," he said. "It's hard to do that while you have the series going on at the same time; I think that's why it took The Simpsons 20 seasons to figure out how to do it.
He's already figured out the plot, which he noted will be a little more revolutionary than the story of the aforementioned Simpsons movie. "The Simpsons movie, I thought, was hilarious, but the one criticism I would have is that it's a story they probably could've done on TV. There could've been an episode that had that plotline."
He continued: "That's the challenge with animation. You pretty much can do any story you want, so what is the reason for the movie? We finally hit on the answer to that question, and it will be something that would be impossible to do on TV."
MacFarlane refused to elaborate beyond that tease, which makes it even more fun to speculate about what, exactly, he could be referring to. What do you think could be his revolutionary twist? Family Guy has never been afraid of taking on something different, so it must be really weird.
The actor/writer/director/2013 Oscar host appeared on Stand In to introduce a contest seeking college students interested in a film career to present statuettes at February's Academy Awards ceremony.
Follow Jean on Twitter @hijean
[PHOTO CREDIT: Wenn]
MORE:
Seth MacFarlane Launches Contest Seeking Oscar Presenters
Seth MacFarlane on Family Guy's 200th Episode
Seth MacFarlane wins comedy award
You Might Also Like:

Jake Harper Could Disappear on 'Two and a Half Men.' What Other TV Kids Went Missing?