Severus Snape Goes Punk: Alan Rickman to Star in CBGB Biopic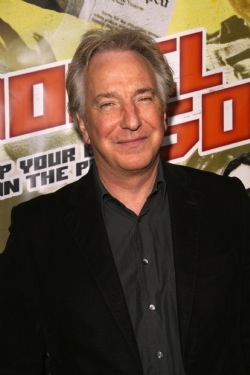 No one can say that Alan Rickman doesn't have range. The actor, who's best known for playing Severus Snape in the Harry Potter films, recently signed on to play Ronald Reagan in The Butler, and Rolling Stone reports that he'll next play CBGB owner Hilly Kristal in a movie about the legendary punk rock club.
The film will tell the story of how the country and bluegrass club CBGB wound up serving as the birthplace of the American punk rock movement in the late '70s. This means that there will be plenty of opportunities for Lenny Kravitz types to prove they have acting chops, and for actors to follow in Tom Cruise's footsteps and rock out onstage. So, who should play the famous musicians who frequented CBGB in the early days? We have a few suggestions!
Joey Ramone: Who's fit to wear the motorcycle jacket of the 6'6″ rocker? The first person who comes to mind is Howard Stern, but he's too old for the role (plus, he's got his hands full with America's Got Talent). If you give Adrien Brody a shaggy haircut, he can definitely pull it off.
Patti Smith: Aside from physically resembling Patti Smith, Lizzy Caplan could also capture her spirit. We can definitely imagine Mean Girls' Janis Ian or April from Hot Tub Time Machine breaking into a performance of "Because the Night."
Adam Yauch: Eminem has always cited the Beastie Boys as one of his biggest influences, and what better way to pay tribute to the late Adam Yauch than to play him in a biopic? Eminem already has an Oscar for Best Original Song, but he'd probably love to pick one up for acting as well.
Debbie Harry: As long as we have musicians playing their idols, we might as well have Gwen Stefani take on the role of Debbie Harry.
Sting: Neil Patrick Harris can sing, and he could easily capture Sting's look. He'd just need to work on the British accent, because this won't cut it:
More:
J.K. Rowling's New Book: Harry Potter All Grown Up?
Daniel Radcliffe Thinks 'Harry Potter' Deserved More Oscar Nominations
J.K. Rowling Titles Post-'Harry Potter' Book