Cameron Diaz and Jason Segel Take On the Mysterious Cloud in the 'Sex Tape' Red Band Trailer
In this era of technological advancement, there is one overarching feature… a feature presumably designed to make our lives easier, but one that absolutely nobody understands: the cloud. That mystical invention that holds all of our important files and documents somewhere deep in the bowels of the Internet, and allows us to move that information from device to device as we see fit. We are all indebted to the cloud. And yet, nobody can explain how the cloud works. It's the great mystery of our time, and so it would take some of the bravest people in cinema to attempt to explain that mystery on film. It just so happens that those brave pioneers are Jason Segel and Cameron Diaz, and that film is Sex Tape.
The pair play Annie and Jay, a married couple who, wanting to spice up their love life, film themselves having sex. Unfortunately, instead of deleting the video, like they had originally planned, it accidentally gets uploaded to the cloud, making their private lives very public. In an attempt to salvage their reputation and prevent their friends, family, and bosses from discovering what they get up to in their home, the couple must find a way to reclaim the video and unravel the mysteries of the cloud and its evil actions.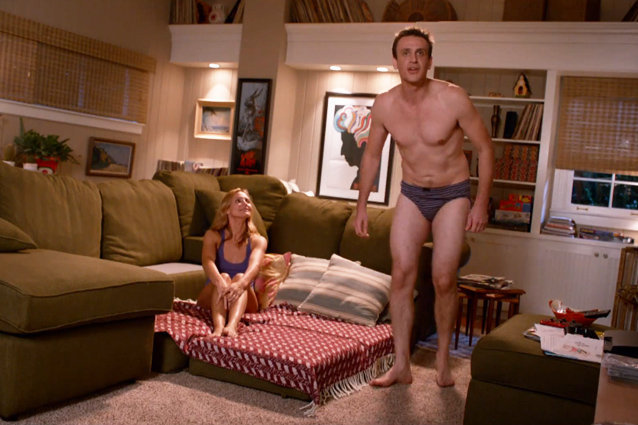 SonyPictures/YouTube
Based on the red band trailer, which features both Diaz and Segel in a number of compromising positions, Sex Tape seems as if it might be even raunchier and more outrageous than their previous collaboration, Bad Teacher — or, at the very least, it should have a lot more nudity. If the two films seem to have a similar tone, that's likely because Sex Tape is also directed by Jake Kasdan, who seems to have upped the ante for his latest project.  But if audiences are put off by the idea of the leads going "the full Lincoln" (which isn't quite what it sounds like), they should be won over by the chemistry between Diaz and Segel, whose relationship was the most entertaining part of Bad Teacher. 
Plus, they're making a movie about the cloud, the shared enemy of Internet users everywhere. If you've ever uploaded the wrong file, sent the wrong text message, or accidentally showcased something private in a very public situation, you should find something to laugh at in Sex Tape, even if you have to watch it through a haze of embarrassment. Hopefully, one day, we will all understand the way the cloud works, and then we can all avoid sending inappropriate things to the wrong people. 
Remember to keep your files from synching automatically, and catch Sex Tape in theaters on July 25.