'Side Effects': Rooney Mara Does Drugs, Everything Goes Horribly Wrong — EXCLUSIVE VIDEO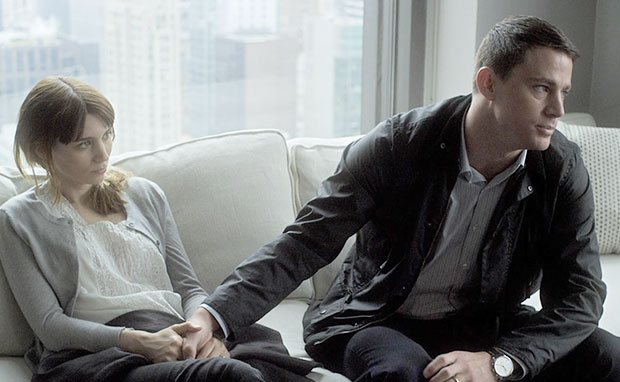 In an effort to pay homage to the work of health teachers everywhere, Steven Soderbergh's final cinematic bow comes with a pretty powerful anti-drug message. Interestingly, the substances on trial in his final feature film, Side Effects, are actually perfectly legal… it's just the sort of behavior surrounding them that might land you a life sentence or two in the state pen.
Rooney Mara plays 28-year-old Emily Taylor, wife of an ex-con (Channing Tatum) and victim to the plagues of depression and anxiety. When Mara's character seeks the professional help of psychiatrist Dr. Banks (Jude Law), she lands herself — and all parties associated with her — in a 50 mg dose of trouble.
The below exclusive TV spot for Soderbergh's upcoming drama-thriller features the explosion of turmoil that embraces Mara, Law, Tatum, and psychiatrist Catherine Zeta-Jones as the experimental medication reaps undesirable results. Check out the video, and catch the film in theaters on Friday, Feb. 8.
[Photo Credit: Open Road Films]
More:
Side Effects': Steven Soderbergh Looks to End His Career on a Sad Note — POSTER
'Side Effects' May Include Infidelity, Murder, and Channing Tatum — TRAILER
'Fruitvale' Lives Up to Award Hype Thanks to Michael B. Jordan's Stunning Performance

J. J. Abrams and 'Star Wars': Has the Lightsaber Been Passed to the Right Director?