Watch the 'Silver Linings Playbook' Alternate Ending and 5 Other Comedies' Scrapped Darker Conclusions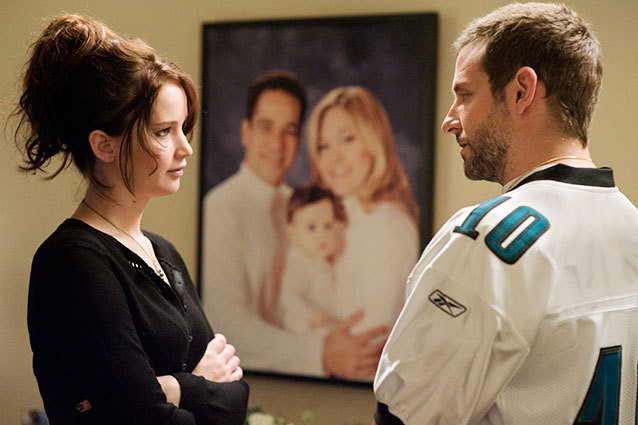 So, everything pretty much worked out splendidly for an unbalanced Bradley Cooper and his musically-inclined, less-ignore-how-much-younger-she-is girlfriend Jennifer Lawrence. Following an arduous emotional journey, Silver linings Playbook wrapped up with a bubbly, charming, delusion-validating conclusion: as happy an ending as director David O. Russell is capable of mustering.
To some, it felt false. Where did this rom-com Hollywood ending spring from, after two straight hours of gritty realism? Apparently, it wasn't the first choice for the wrapping up of the Matthew Quick novel adaptation. Courtesy of MTV, we have been graced with an alternate ending to Silver Linings Playbook (one that will be available on the DVD). While still a satisfyingly happy ending, there's a more probing layer of cynicism, a very present imperfection, that makes it feel just a tad more lifelike. Check it out:
So which do you prefer? The sweet and smiling theatrical ending, or this new one that packs just a tad more bite? 
The deliberation between the quality of a film's final cut and its alternate versions is an argument that has attached itself to many a Hollywood title. Sometimes, darker, harsher conclusions are tossed out to better please audiences, especially when it comes to crowd-pleasing comedies. 
We find a classic example in Little Shop of Horrors, Frank Oz's musical comedy that opted, for theater-going viewers, to wrap the macabre story with bumbling hero Seymour (Rick Moranis) and his beloved Audrey (Ellen Greene) tying the knot and living happily together "someplace that's green" following their defeat of the nefarious carnivorous alien plant who terrorized Skid Row. The alternate version of the ending didn't have such a sweet tone to it, instead opting to kill both main characters and have the world overtaken by the plant and his brethren:
We find a more recent, albeit less severe, example in an unexpected place: 
Dodgeball: A True Underdog Story. Making the subtitle a great deal more ironic, the original, unreleased ending of the Ben Stiller/Vince Vaughn comedy actually did not grant the good-natured Average Joes their ultimate victory, but instead lent the triumph to the powerhouse Globo Gym and its nefarious owner White Goodman (Stiller). After White scores the winning peg, the credits hit the screen abruptly, leaving viewers with a sense of unease. The rejection of this ending works to explain Stiller's inclusion of the post-credits scene in the theatrical version, wherein he laments the "good guy victory" of his film.
Darker yet is the unreleased ending to Pineapple Express, which, to be fair, is a great deal more realistic than the clean getaway made by stoners Dale (Seth Rogen) and Saul (James Franco) in the theatrical version. In the clip, the potheads just can't wait until they are safe and sound and off the grounds of the site at which they were nearly murdered moments earlier, to steal a drag from a handy joint, leading to their annihilation by a hidden gunman. The final moment of the below video, though, is kind of sweet…
Another meaninglessly morbid turn (as declared so by director Kevin Smith, which is why he opted to shift to the happier theatrical ending) occurs in this alternate version of Clerks, which closes the film after Quick Stop cashier Dante (Brian O'Halloran) shot dead by a robber. Had we seen this hit the big screen, we would never have been graced with Clerks 2 … or the upcoming Clerks 3, for that matter.
The alternate ending to Scott Pilgrim Vs. The World isn't exactly darker than the theatrical version — at least compared to any of the above scenes, anyway — but it does stray from the anticipated romantic union of hero and heroine that director Edgar Wright eventually opted for. Here, we see Scott (Michael Cera) bid farewell to Ramona (Mary Elizabeth Winstead) as he gets back together with the wide-eyed high schooler Knives (Ellen Wong) and she skates off on her own journey of solitude. It's a bit more somber, sure, but we're up in the air on which we prefer…
Follow Michael Arbeiter on Twitter @MichaelArbeiter
More:
Jennifer Lawrence to Reunite with 'Silver Linings Playbook' Costars in New Film
Is Bradley Cooper Starring in a David O. Russell Version of 'Freaky Friday'?
Why David O. Russell's New Movie Is Called 'American Hustle'
---
From Our Partners:


Eva Longoria Bikinis on Spring Break (Celebuzz)


33 Child Stars: Where Are They Now? (Celebuzz)