Six of Carla Gugino's Best Glorious, Gratuitously Sexy Scenes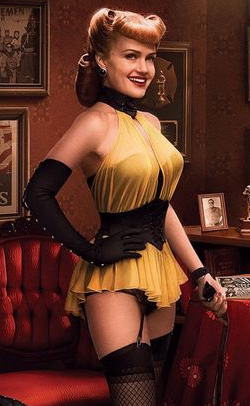 There is no denying the Carla Gugino is one of the sexiest women in Hollywood. She's so sexy, in fact, that the roles we remember her most for are her appearances as sexy supporting characters. She's really a sort of small miracle. First off, I'm a straight girl and I HAVE A CRUSH ON HER. She's 39 years old and if I ever switched teams for an actress, I'd pick her over Scarlett Johanson or Minka Kelly or some other 20-something starlet in a heartbeat. Hell, I don't want to see Sucker Punch — I literally have zero interest — but Gugino is in it (in a scene on this list) and suddenly I'm intrigued. See how that works? See how powerful she is? Hell, I didn't like Watchmen, but I loved seeing her in it. The woman is a tornado of sex and the rest of us are just powerless to resist.
In honor of her latest project, here's some proof in the form of some seriously sexy Gugino scenes over the years — and yes, some of them are very NSFW (that's not safe for work for you nubes out there) so make sure your boss isn't standing behind you.
Gratuitous Gugino #1: Hot For Teacher
Source: Sucker Punch
Gratuitous Gugino #3: Lady on Lady Makeout
Source: The Center of the World
Gratuitous Gugino #4: Who Needs Pants, Really?
Source: Entourage
Gratuitous Gugino #5: The Elevator is Clothing Optional, Right?
Source: Women In Trouble
Gratuitous Gugino #6: Nudity. So much Nudity. (NSFW)*
Source: Sin City
*Unfortunately the clip isn't in English, so you may not understand the dialog. Then again, that's not why you're checking out this list is it?