Skip Woods To Script New 'Die Hard' For Fox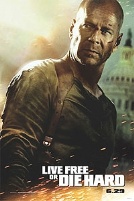 Source: Risky Business
Hitman screenwriter Skip Woods is in negotiations to script a new Die Hard film, the Risky Business blog reports. The Fox film would be the fifth in the Bruce Willis/John McClane series. The character last appeared in 2007's Live Free or Die Hard, written by Mark Bomback and directed by Len Wiseman.
There's no word yet on the new project's story line, but former Fox exec Alex Young is producing, says BIZ.
Willis, has several projects moving toward release and then a late-summer production start on the Lionsgate video game adaptation Kane & Lynch.
After that, as BIZ notes, "he's free again to dig out the stubble, filthy T-shirt and beleaguered wisecracks."
http://www.hollywoodwiretap.com/?module=news&action=story&id=47934