'Skyfall': A Breakdown of All the Bond Action in the New Trailer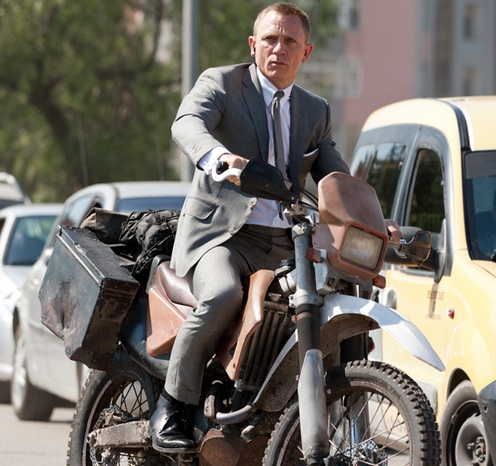 What exactly did Quantum of Solace lack to make it such a disappointment to James Bond fans? Whatever that missing factor was, it's probably present in the upcoming Skyfall. Judging from the latest trailer, which debuted during the Olympics, the next Bond movie has everything. Everything.
"What do you mean 'everything'?" asks the skeptical Bond traditionalist, who hasn't been satisfied by a 007 flick since Her Majesty's Secret Service. Well, every imaginable death-defying, heart-breaking, all-around-cool-being act that James Bond can muster, Daniel Craig pulls off in the trailer below. Check out this comprehensive breakdown of all of the Bond-tastic elements in Skyfall:
Vehicles
Motorcycles: one speeding along some kind of a balcony; one crashing through a window; one parkouring and eventually falling into a violent alleyway
Fancy cars: silver, ostensibly speeding
Boats: a schooner, probably chock full of robe-wearing criminals; a gondala, adorned with dragons
Trains: ripe for the rooftop hopping
Flammability
Bond walks through a burning village; firework shows; things explode
Sexual tension
Ranges from caressing to kissing among multiple women
Noble staring
At British flags, through secret windows, and at cityscapes (Craig knows how to pull off noble staring)
Guns
Yes
Back Hoes
Yes, surprisingly
Falling
Not just falling… skyfalling
Check out the trailer to see for yourself!
More:
'Skyfall': Daniel Craig Turns James Bond into a Hell's Angel — PIC
'Skyfall': Hollywood.com Visits the Set of Bond's Latest Mission