'Skyfall': A Breakdown of All the Bond Emotion in the New Trailer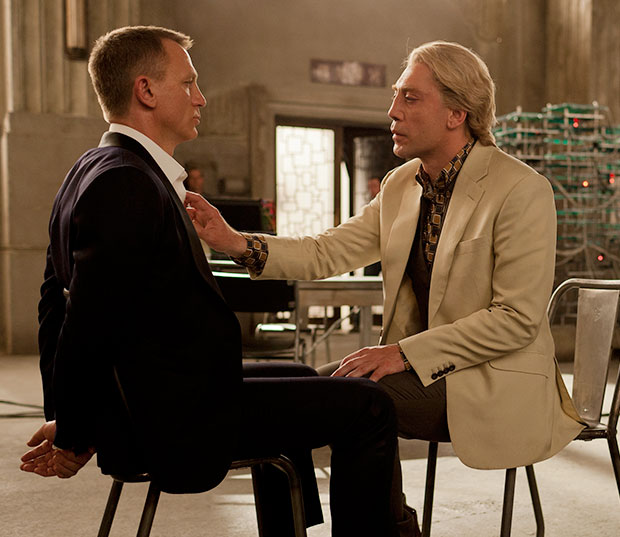 Over the summer, fans received a Skyfall trailer that offered a glimpse into the action-packed sensibilities of the upcoming James Bond movie: heavy with explosions, gunfire, all-terrain travel, and a whole lot of anatomical exploration betwixt Daniel Craig's 007 and his leviathan of female compatriots. But this new trailer, complete with the latest Bond theme by born-to-sing-a-Bond-theme Adele, takes a deeper, more intimate approach to the super spy. Sure, there are the inevitable fair share of trains crashing through buildings and parliamentary edifices exploding, but this one is all about the heart.
RELATED: Adele's 'Skyfall': That's Not a Bond Theme, THIS Is a Bond Theme
So, in partnership with our Breakdown of All the Bond Action in the previous trailer, we now give you a Breakdown of All the Bond Emotion. It's less flashy, yes, but thanks to the musical stylings of Adele, it will no doubt tug at the heartstrings.
Looks of Pause
All featured characters take part in this — from a defeated Bond, to his remorseful shooter (Naomie Harris), to a stern and solemn M (Judi Dench), each with more gravitas than the last
Somber Self-Examination
Bond doesn't just go for pleasant swims and starlit dragondola rides, he peers heavily into his own soul in a coarse journey to turn it all around
The Seeking of Displaced Refuge
You can't find happiness in nighttime laps at the Y, any number of fancy cars or boats, or casual sex with women who are probably involved in a master plan to kill you; but you can find it in rising to the responsibility of defending your people
Determined Marches
Baddie Javier Bardem leads one towards the end of the trailer
RELATED: Bond's Underwater Action Scene — VIDEO
Dramatic Head-Turns
Two
So this might not be as exciting a breakdown as the tally of explosions, vehicle chases, and gunshots. But Bond is Bond because he has heart, poignancy, character. Without these elements, he'd just be another forgettable action wannabe-hero, not the longstanding cultural icon that he is.
Skyfall arrives in theaters on November 9.
[Photo Credit: MGM]
---
From Our Partners:

Noo!! Most Tear-Jerking Pet Deaths in Movies
(Moviefone)

Biggest Comedy Movie Mistakes Ever
(Moviefone)