'Skyfall' Recruits a Third Bond Girl: 5 Things to Know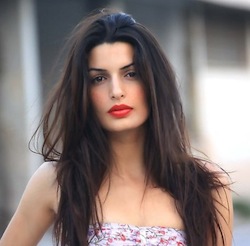 UPDATE: There are several elements that are essential to any Bond film: Action, martinis, and of course, "Bond girls." Skyfall, the latest installment in the franchise, has already toyed with this formula by having Daniel Craig sip Heineken, but thankfully Bond will still have plenty of glamourous lady friends. Previously, Naomie Harris and Bérénice Marlohe were cast in the film, and now a third leading lady has been added:  Tonia Sotiropoulou.
The Greek actress broke the news on Facebook, writing, "Dear friends I officially announce I got a part in J. Bond new film!!! Turkey here I come! Thank u all for you love and support! This is officially the happiest day of my life bitches!!!!"
Sotiropoulou originally auditioned for Sévérine, but the role went to Marlohe. After auditioning again and meeting with director Sam Mendes yesterday, she finally landed the part. She told the Greek press that she's excited to be featured in a film that will play for audiences worldwide. "I feel very lucky and blessed, but basically, I am very grateful that this happened, for my family and my friends who believe in me and support trying to do," she said. "I will do the best, I am very proud because somehow it might be something that will advertise in Greece and I am happy about it."
More details have emerged about the smoldering actress. Here's what we know so far: 
* Sotiropoulou says on Facebook that she knows English, French, Greek, Ancient Greek and Cypriot Greek. 
* She once played the Virgin Mary. 
* She's performed standup comedy and children's theater. 
* Her biggest role to date has been in a horror film called Berberian Sound Studio.