'Skyfall' Wins Box Office With $87.8 Million, Breaks James Bond Records!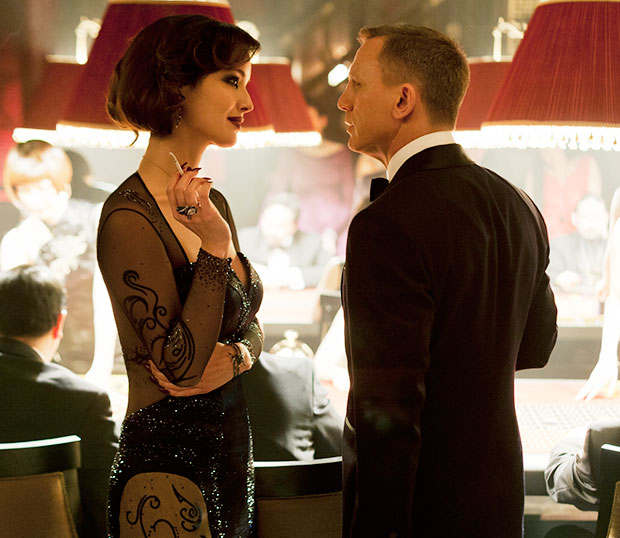 Fifty years and 23 movies later, James Bond is still going stronger than ever. 
The super-spy's latest
Skyfall
 starring 
Daniel Craig
 exploded into the North American box office, beating its already-high expectations with an incredible $87.8 million in its opening weekend. 
That's a new record for 007, making it the best Bond debut ever. It topped Quantum of Solace, which earned $67.5 million over the weekend of November 14, 2008. 
With the additional $2.2 million from special exclusive preview runs at 463 IMAX and select locations on Thursday, the film has taken in a total of $90 million since opening. 
IMAX took in $13.1 million at their theaters as part of the weekend, accounting for 15 percent of the box office. In addition, SKYFALL's opening weekend in IMAX set a domestic record – the weekend gross of $13.1+ million represents the best non-summer opening in the company's 45 year history. IMAX's weekend consisted of sell outs all across North America. In fact, SKYFALL's top 6, as well as 9 of its top 10 locations are IMAX runs and the $13.1 mil on 320 IMAX screens comes to an amazing $41k per screen average. (Check out my interview with 
IMAX President Greg Foster talking about Skyfall here.)
And the film has been taking the box office by storm internationally, too. Through last Thursday, the film had taken in $346.8 million overseas.
Here's how the rest of the weekend's Top 10 rounded out: 
1. Skyfall: $87.8 million
9. Man With the Iron Fists: $2.48 million
More:
What Your Favorite James Bond Says About You
Javier Bardem on His Quirky 'Skyfall' Villain: 'That's Me — Because I'm Insane Sometimes'
'Skyfall': A Breakdown of All the Bond Emotion in the New Trailer
From Our Partners:

(Moviefone)