Slow Post-Thanksgiving Box Office Weekend
With no new wide release newcomers this will be one of the lowest grossing weekends of the year with around $82 million in total receipts.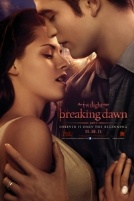 Summit Entertainment's The Twilight Saga: Breaking Dawn, Part 1 takes the spot for the third consecutive weekend (a feat matched earlier this year by The Help) with $16.9 million. Like catnip for teen girls, the vampire saga has earned $247.3 million to date as it continues to dominate the marketplace.
In second place with a steeper than expected 62% drop Disney's PG-rated The Muppets in its second weekend took in $11.2 million though it has grabbed a solid $56.1 million through Sunday.
Paramount's Hugo has continued to perform well moving from 5th place last weekend to third place this weekend with $7.625 million in just 1,840 locations and a total to date of over $25 million.
Fourth place goes to Sony's Arthur Christmas ($7.35M this weekend) and fifth place to Warner Bros. Happy Feet Two ($6.0M this weekend) and yet another PG-rated film in sixth place as Sony's Jack and Jill earned $5.5 million this weekend. If you add Paramount's Puss in Boots to the mix that makes a total of six out of the top ten movies that carried the family-friendly rating this weekend.
The really good news was in the specialized film world with Fox Searchlight's The Descendants moving up to seventh place (from ninth last weekend) with added theaters and a solid average of $9,059 and $5.2 million for the weekend. Searchlight also had great news in the form of the solid performance of the much talked about NC-17 drama Shame which had a whopping $36,118 per theater average in 10 locations and $361,181 in its debut.
Also strong and a major Oscar front runner to boot is Weinstein Co.'s The Artist which is generating huge buzz among critics and audiences alike and as such grossed $205,580 in just 6 locations. Their My Week with Marilyn stays in the top 12 with $1.18 million in its second weekend and nearly $4 million to date.
There is still very little out there for the 18 to 24 year old male audience and perhaps that oversight is negatively affecting the box office and part of the reason for this very low grossing weekend.
Thankfully audiences will have a couple of new wide release films to jump start the marketplace on December 9 with the R-rated Jonah Hill comedy The Sitter from Fox and the PG-13 rated romantic ensemble comedy from Warner Bros.
Weekend Box-Office Top Movies for Weekend of December 2, 2011 (Estimates) Movie Weekend Gross Total to Date 1 The Twilight Saga: Breaking Dawn – Part 1 (PG13) $16.9M $247.3M 2 The Muppets (PG) $11.2M $56.1M 3 Hugo (PG) $7.6M $25.2M 4 Arthur Christmas (PG) $7.35M $25.3M 5 Happy Feet Two (PG) $6.0M $51.8M