Small-Screen Stars on the Big Screen
In this week's Drive, not one but two big names from the land of TV have juicy roles: Breaking Bad star Bryan Cranston and Mad Men's Christina Hendricks (the latter also appears in Friday's I Don't Know How She Does It). They're hardly the first TV mainstays to find time for movies; likewise, they won't be the first to boost their overall profile in so doing.
Take a trip down memory lane with highlights of a few actors who, in the midst of TV stardom, found time for movies—and benefited.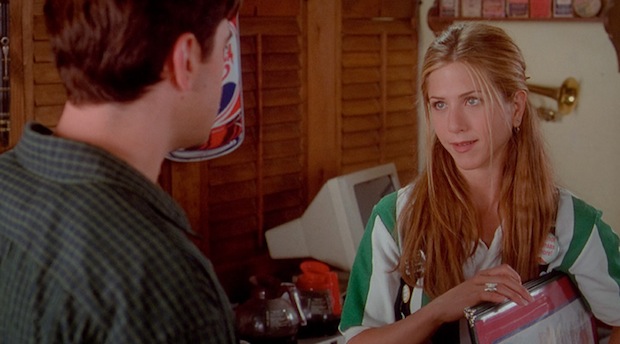 Hit Show: Friends
Concurrent Movies of Note: Office Space, Rock Star, The Good Girl, Bruce Almighty, Along Came Polly
The most obvious example of an actor's TV stardom affording movie opportunities galore, Aniston was almost as ubiquitous on the big screen during Friends' 10-year run as she was on the small screen. Her first movie during that time, 1996's She's the One, bombed, but by the time her hit series came to an end, in 2004, she'd used movies to bolster her acting cred (The Good Girl), geek appeal (Office Space) and box office power (Bruce Almighty, Along Came Polly).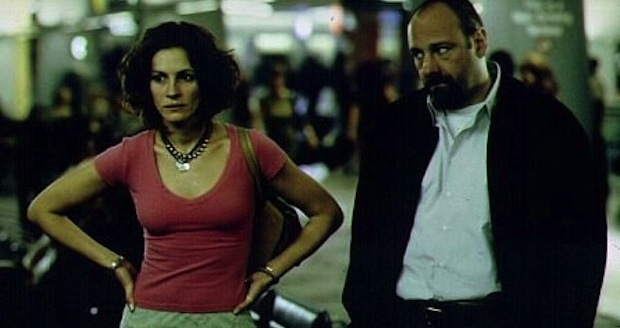 Hit Show: The Sopranos
Concurrent Movies of Note: 8MM, The Mexican, The Man Who Wasn't There, The Last Castle, Surviving Christmas, All the King's Men
The man who will forever be known as Tony Soprano didn't find the kind of success in film that he enjoyed – er, resented – on the beloved HBO show, but it wasn't due to inactivity: During The Sopranos' eight years on TV, Gandolfini starred in eight feature films, even though most sailed under the radar, which was perhaps intentional (except for Surviving Christmas). We can only hope we'll someday see him reprise his Sopranos role – on the big screen.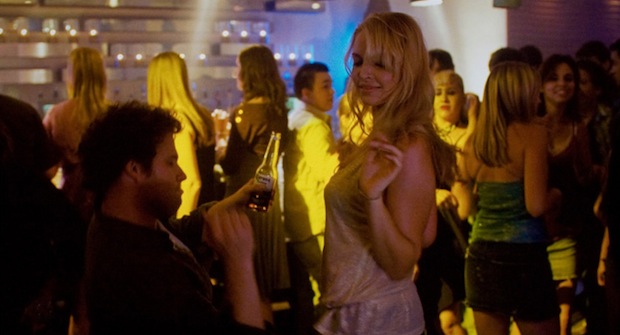 Hit Show: Grey's Anatomy
Concurrent Movies of Note: Knocked Up, 27 Dresses, The Ugly Truth
Seemingly overnight, Heigl went from being something of an also-ran as Dr. Izzie Stevens on ABC's medical drama Grey's Anatomy to the possible "next Julia Roberts." It all started with Knocked Up – even though she would ultimately denounce director Judd Apatow's treatment of her character – which begat the hit rom-com 27 Dresses, which begat the even bigger hit rom-com The Ugly Truth. It's basically been downhill ever since for Heigl, however, as 2010's Killers and Life As We Know It were both panned by critics and somewhat ignored by moviegoers.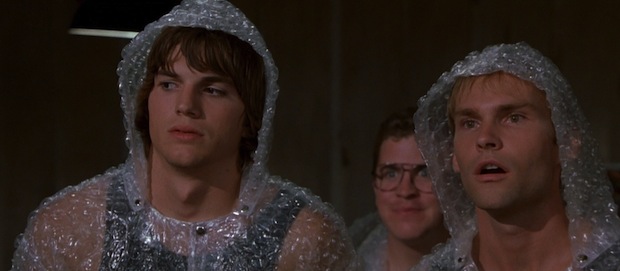 Hit Show: That '70s Show
Concurrent Movies of Note: Dude, Where's My Car?, Just Married, The Butterfly Effect, Guess Who, A Lot Like Love
It's been quite a ride for Kutcher's career, and in a way it's come full circle – as he's now back on the tube (Two and a Half Men), where he started. But for a while during That '70s Show's run, he was parlaying his surge to stardom into movie roles, and it could be argued that the series ultimately ended because each of the main cast members became too big for the small screen (it's certainly inarguable that Mila Kunis is the biggest alum right now!).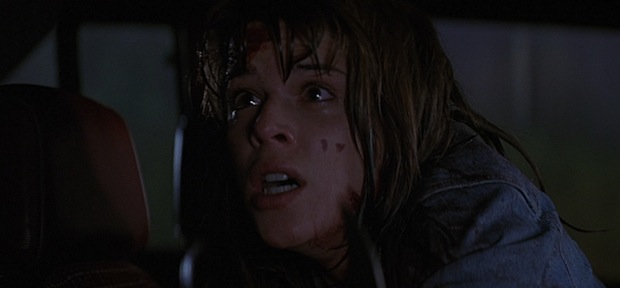 Hit Show: Party of Five
Concurrent Movies of Note: The Craft, Scream (first three movies), Wild Things
For a while there in the '90s, Fox's Party of Five was all the rage, and its lead actress, Neve Campbell, capitalized the most. She became a(n) (oc)cult icon for her role in The Craft, a full-fledged household name thanks to the Scream franchise, and a Mr. Skin hall-of-famer following a scene in Wild Things (which hurt her career as much as it helped Denise Richards'). Ironically – or maybe unironically – Campbell's movie career has pretty much consisted of one misfire after another, including this year's Scream 4, precisely since the end of Party.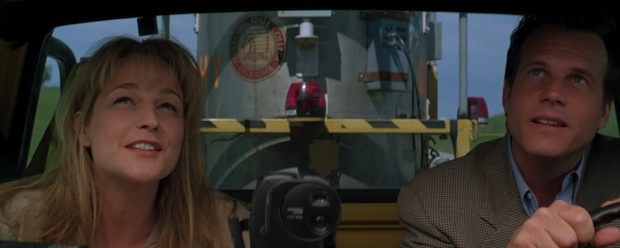 Hit Show: Mad About You
Concurrent Movies of Note: Twister, As Good As It Gets
Mad About You served as a launching pad for what would become a successful movie career for Helen Hunt, and although it has since tapered off considerably – likely of her own volition – Hunt at one point threatened to become the biggest actress in the biz, all thanks to Paul Reiser's hit sitcom. In the end, she starred in a then-groundbreaking special-effects movie that is now a ride at Universal Studios (Twister) and one of the biggest rom-coms of the '90s (As Good As It Gets), the latter of which won her an Oscar.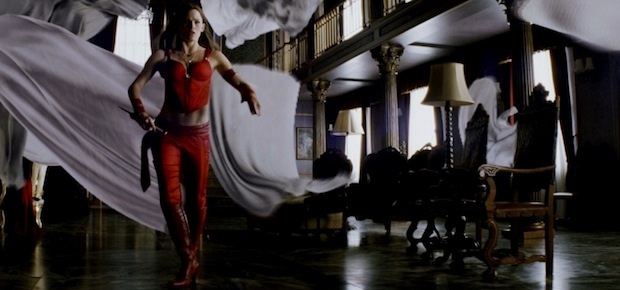 Hit Show: Alias
Concurrent Movies of Note: Pearl Harbor, Daredevil, 13 Going on 30, Elektra
Like the other Jennifer on this list, Garner's show really shot her to superstardom. Alias displayed so many of Garner's, ahem, assets and so many different molds she could be tidily squeezed into, it was only a matter of time before the big screen beckoned her full-time attention. But prior to her departure from the J.J. Abrams-created action series, Garner made quite a splash in movies, first with smaller roles in big movies (Pearl Harbor, Catch Me If You Can), then, ultimately, two movies all to herself that would ultimately make (13 Going on 30) and not quite break but temporarily hurt (Elektra) her movie career.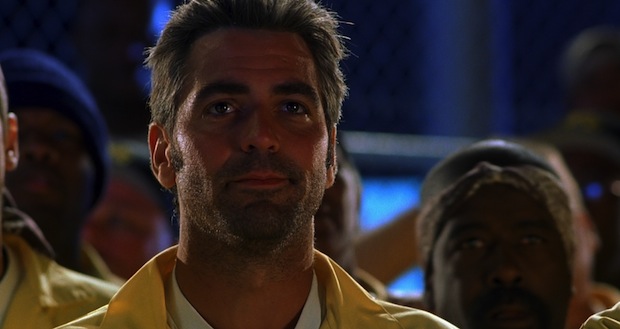 Hit Show: ER
Concurrent Movies of Note: From Dusk Till Dawn, One Fine Day, Batman & Robin, Out of Sight
It's easy to forget, but George Clooney became "George Clooney" because of ER, and while he didn't become a Serious Movie Actor until he left the hit series, it afforded him quite a wide variety of big-screen roles – including the dream role in what turned out to be probably the most disastrous Batman movie ever. All will likely agree that Steven Soderbergh's Out of Sight was the cinematic high point for Clooney during his days as Dr. Doug Ross (and the high point of J. Lo's career, period).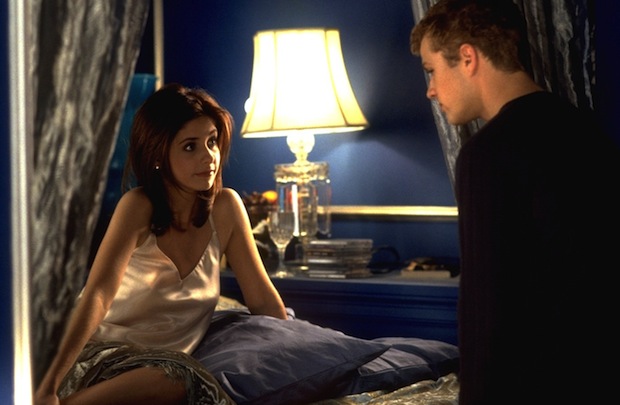 Hit Show: Buffy the Vampire Slayer
Concurrent Movies of Note: I Know What You Did Last Summer, Simply Irresistible, Cruel Intentions, Scooby-Doo
Her movies weren't always works of art (or, OK, even decent), but with the help of her title role on the beloved Buffy, Gellar was in the late '90s the go-to actress for young, angsty female roles in mainstream movies (i.e., I Know What You Did Last Summer and Cruel Intentions). And Scooby-Doo at least made her a good amount of money. Hopefully.
Almost Everyone on Saturday Night Live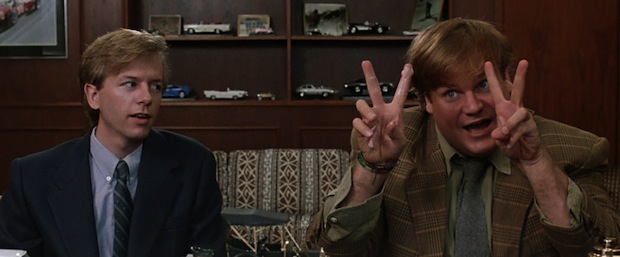 It is well-known that Saturday Night Live is largely a stepping for its cast members on their way to bigger and better things (read: movie stardom); at this point, it's almost a rite of passage to launch a successful movie career shortly before exiting the sketch-comedy show. Current cast member Kristen Wiig is an anomaly in that she has an absolute blockbuster movie under her belt (this summer's Bridesmaids), yet she has not confirmed that she will be departing SNL to capitalize on the momentum. The formula is well-documented, though: Everyone from Eddie Murphy (48 Hrs. and Trading Places while on SNL) to David Spade (Tommy Boy) and many in between and since have released a big movie during their "residence" and left because of said big movie soon thereafter.