'Snow White' to Take a Bite Out of the Box Office Apple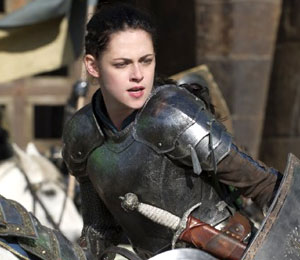 After a month packed full with science fiction flicks, the fantasy genre is primed to take the number one spot at the U.S. box office this weekend with the release of Snow White and the Huntsman (read the review). Resident box office magic mirror Paul Dergarabedian predicts the reimagined fairy tale, starring Kristen Stewart, Chris Hemsworth and Charlize Theron, should take the throne from Men in Black 3 with upwards of $35 million. Dergarabedian suggest there's a little something for everyone, with a strong female lead and plenty of Lord of the Rings-style action (and for those looking for alien alternatives, SWATH features plenty of its own creatures).
Regardless of the incoming knights in shining armor, MIB 3 (read the review) should hold its own with around $30 million. With a strong Memorial Day opening, the movie has already grossed $200 million worldwide and should pass the $100 million mark by Sunday. That's a tidy sum, but even after crossing the nine-digit mark, the movie will still have some work to do if it hopes to crack Will Smith's personal top ten. The bottom slot of the career list is held by 2003's Bad Boys II with $138 million!
Marvel's The Avengers (read the review) continues to do steady business in America, breaking records with every passing day. In its fifth weekend of release, the box office should easily take third place with a $20 million take, finally picking off The Dark Knight's $533.3 million total and becoming the third highest grossing film of all time (only behind James Cameron's powerhouses Titanic and Avatar. By Sunday night, Avengers will have grossed around $550 million in 31 days of release.
Rounding out the weekend are Battleship (read the review) and The Dictator (read the review) , both in their third weeks and aiming for around $5 – $7 million. That should bring the sci-fi blockbuster and dark comedy to around $50 million domestic each.
Follow Matt Patches on Twitter @misterpatches
More:
Charlize Theron and Chris Hemsworth Talk 'Snow White and the Huntsman' — VIDEO
Fairest of the Brawl: Princesses-Turned-Badass Heroes
'Snow White' Designer Talks Kristen and Charlize — EXCLUSIVE
[Photo Credit: Universal Pictures]