SXSW: 'Some Girl(s)' Is as Divisive as, Well, Any Neil LaBute Work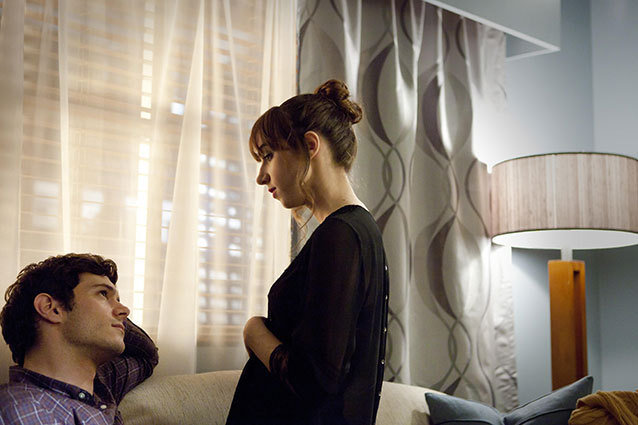 There are two types of people in this world: those who love Neil LaBute's work and those who don't. What some see as an unfiltered, unflinching portrayal of human behavior (particularly in men), others see as cold and unfair portrayal of human behavior (particularly in women). However you feel about LaBute will likely dictate how you feel about the big screen adaptation of his work Some Girl(s), which played at the SXSW festival over the weekend. 
RELATED: SXSW: 'Drinking Buddies is a Good Time, With Less Filler
With Adam Brody as the self-involved sociopathic Man, the actor's performance encompasses everything that makes women weary of men, and regretful of those we've encountered like him before. Man selfishly decides to embark on a tour of seeing all of his former flames and documenting all the details of their failed relationships for a project.
The only problem is, this is no innocent game of catch up: Man, now engaged to Some Other Poor Woman, is dragging his exes through the past for his own twisted sense of self-worth. He has them meet with him in hotel rooms, only to turn down their sexual advances. He swears he has them there to right any wrongs from the past, only he never actually apologizes, and in the end, only conjures up terrible things. 
Told through a series of vignettes, we meet each of the women who have been markers in Man's life (including Jennifer Morrison, Mia Maestro, Emily Watson, Kristen Bell and a particularly heartbreaking Zoe Kazan). While each sequence is tonally different, they all wind up making you feel just plain bad for these women. 
RELATED: SXSW: 'Short Term 12' is a Small Movie with a Big Impact
At SXSW, Hollywood.com caught up with Brody — who is obviously a LaBute fan ("He's one of those writers where he's got just such a storng, intelligent, specific voice and there's so many colors to play with there. I really like the dark humor aspect of all his work," he said) — and he gave his own thoughts on Man and Man's deplorable behavior. 
"His name is Man and, to me, he's actually a literary construct," Brody says. "He does this [behavior] ad nauseum, it repeats and repeats and repeats. If he's going to end up with his wife, he's going to cheat on her and make excuses. He's not going to take responsibility for anything ever, that I'm sure of."
Brody continued, "I don't think he knows it, but I think he is operating from a place that is solely about him…I don't think he's not capable of one degree of selflessness. Everything operates from a place of narcissism." While Brody said he played Man as someone who believed he was well-intentioned, the actor couldn't come from a place of having a desire to reach out to old flames, like his character does in the film. 
"I don't feel like I have a complicated past…in a healthy way," Brody says. "I don't feel a need to revisit, or I don't have a lot that's been unsaid. I can't relate. The way [Man] is doing it is incredibly selfish, too. The whole idea is awful." Well, you can't say the man isn't honest. 
RELATED: SXSW 2013: 5 Must-See Films
[Photo credit: Kristen Klier]
---
You Might Also Like:


Topanga's Revealing Lingerie Shoot: Hello '90s!


15 Stars Share Secrets of their Sex Lives (Celebuzz)