Songs We Need to See in 'Pitch Perfect 2'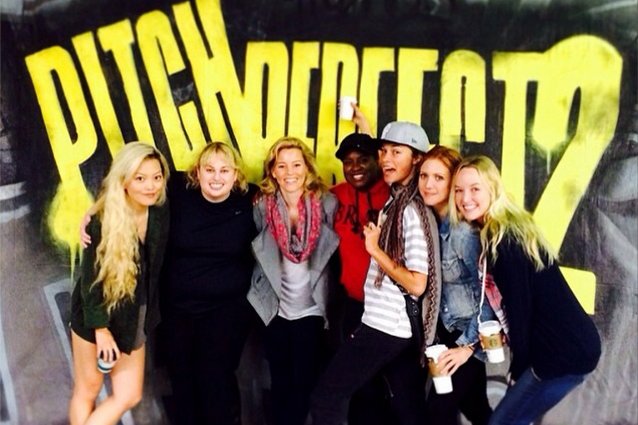 Instagram/brittsnowhuh
Not only was Pitch Perfect epically funny it also had an amazing soundtrack. It was the perfect blend of nostalgic pop hits, current Top 40s, and innovative musical mash-ups. But  can the upcoming sequel, with Elizabeth Banks now serving as director, top the 2012 movie?
They have all the tools: Anna Kendrick proved she was a viable recording artist after "Cups" went from a cute song to a viral hit. Fans may not realize that Ester Dean, who plays Cynthia Rose, is behind some of the most memorable pop hits. She produced the infectious Selena Gomez hit "Come & Get It" and the David Guetta/Nicki Minaj collaboration "Turn Me On." We may not know any of the songs that will be in the movie but here are a few songs we're dying to hear get an aca-adjustment.
The Audition Song
In the first film, all the freshman had to perform Kelly Clarkson's "Since You've Been Gone." Rebel Wilson kills it and Skylar Astin belts out a high note. For the sequel, we think Miley Cyrus' "Wrecking Ball" is the perfect song. The Bellas could very well choose the song since they sang "Party in the USA" in the last film. Plus, the song is catchy, and by now, who doesn't know the lyrics?
The Riff-Off
The riff-off was one of the best moments of the movie. All the competing a capella groups meet up in an empty pool to sing fully arranged a capella songs with no prior rehearsal. However, through Hollywood magic they end up being fully in-synch. In the first film, songs like "Like a Virgin" by Madonna, "S&M" by Rihanna (written by Dean), and "No Diggity" by Blackstreet made the cut. This is a great opportunity for "Come & Get It" to make an appearance since the producers have an in with Dean. Also, "Somebody that I Used to Know" got some amazing a capella treatment by Pentatronix. There's also a chance for Kendrick to rap and perhaps sing Iggy Azaelea's "Fancy" or dare we say it, Kreayshawn's viral video hit "Gucci, Gucci."
The Barden Bellas
Now that Becca (Kendrick) has revealed her magical DJ powers and ability to write mash-ups, it stands to reason the ladies will be singing one or two of them, adhering to songs by female artists. "Let It Go" is inescapable. Here's an awesome mashup by DJ Axcess that mixes it with Madonna's "Frozen." To add a little more pep to the somber hit why not add Britney Spears' "Hot as Ice"? Another great mash-up (see below) features "Drop Dead Beautiful" by Spears and written by Dean. It also speeds up Kerry Hilson's "Pretty Girl Rock." However, they should replace the Chris Brown sample for obvous reasons with TLC's "Unpretty."
The Trebelmakers
In the first film, Astin, Adam DeVine, and Ben Platt sang amazing pop songs as part of the all-male group on campus. The sequel should do a gender-swap of Carly Rae Jepsen's "Call Me Maybe." There were a ton of viral videos of men singing the song. An all chorally-arranged version of The Pixies classic "Where Is My Mind" would be an awesome moment in the movie. Plus, it's been a great time for guys in music with "Radioactive" by Imagine Dragons or anything by Sam Smith who killed it at Coachella. Or what about this Bastille slowjam cover of "No Scrubs" by TLC.
What songs do you want to see in the sequel?