Sonnenfeld Says Smith & Jones Are Back In Black For 'MIB 3D'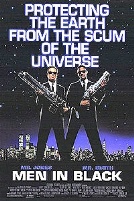 Source: Showbiz 411
No word has come from the studio, but today Showbiz 411 reports that Will Smith and Tommy Lee Jones will reprise their roles as Agent's J and K for Barry Sonnenfeld's Men In Black 3D.
It is not surprising that Sony is fast-tracking the project: with Spider-Man 4 off of next year's release schedule, the studio is desperate for a tentpole for Memorial Day weekend and you can always count on Smith to rake in the cash.
The deal has not been confirmed, but given the recent hoopla regarding Smith's next project (which was said to be either MIB III, Independence Day 2 or The City That Sails), it makes sense that a decision was on the way.
It was announced last October that Tropic Thunder writer Etan Cohen had been hired to write the script for the third installment.