Sony Corners Quartet Of Actresses For 'Dragon Tattoo'

Though it-girls Ellen Page, Kristen Stewart and Carey Mulligan have been linked to the highly-coveted role of Lisbeth Salander in director David Fincher's upcoming adaptation of Steig Larsson's The Girl With The Dragon Tattoo, both the Oscar nominated filmmaker and Sony Pictures (who is financing and developing the film) never ruled out the possibility of casting an unknown as the computer hacker heroine. Now, the Daily Beast claims to know who has made the short-list for the punky protagonist and it is comprised of four actresses that you've probably never heard of, but will soon enough.
Just as the studio cast a relative newcomer as Peter Parker/Spider-Man in their reboot of the beloved Marvel Comics-based film series (Andrew Garfield, who coincidentally appears in Fincher's The Social Network later this year), it looks as though they'll employ the same tactic for Salander. According to the source, Australians Sophie Lowe and Sarah Snook, French actress Lea Seydoux and American thesp Rooney Mara are officially on call to work opposite Daniel Craig on the film. Since most of you are probably scratching your heads and wondering who these extremely lucky girls are, I thought I'd give you a little background information on them.
The most well-known is probably Rooney Mara. If you vaguely recognize the name at all, it's probably because of her older sister Kate, who has appeared in films like Brokeback Mountain, We Are Marshall and Iron Man 2. It's a bit early to say, but I'm going to call her "the front runner" because she's already worked with Fincher on The Social Network and has some high-profile films on her resume (she appeared in Youth In Revolt and A Nightmare On Elm Street this year). That in no way makes her the most qualified candidate, but when you're dealing with big-budgets, lofty box office expectations and unknown talent, studio's tend to want somebody that an audience can at least ask themselves "where do I know her from?".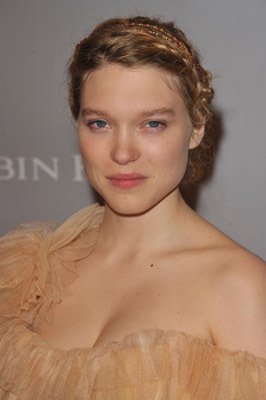 The runner up is likely Lea Seydoux, who's only English language credits are Inglourious Basterds and Robin Hood, but has more experience than all of the other girls. And that's not too shabby for a complete unknown – she actually has the biggest box-office totals of the lot thanks to those two films and got to work with acclaimed directors Quentin Tarantino and Ridley Scott. Fincher may like the fact that she was picked by those two Oscar winners for their most recent films and decide that if she's good enough for them, she'll be good enough for him.
I know very little about the Aussie's apart from what they've got coming up. Sarah Snook recently wrapped a contemporary, live-action take on Sleeping Beauty (opposite Sucker Punch's Emily Browning) as well as a TV movie titled Sisters Of War, both due some time next year.  Of course, neither project has an American distributor, so unless she nabs the part of Salander, we may never see either of them. Sophie Lowe has worked on a bunch of low-budget Australian horror films and stars in the revenge thriller Blame (also without an American distributor), due in September. If Fincher truly wants fresh blood, he's got it with these two.
There's not a lot of official information that we can take away from this update on the production other than knowing that a newbie will be taking on the role of the quick-thinking, tough-as-nails Lisbeth Salander. I can't deny that I think the project – as a product to be sold to celeb-stalking American audiences – needs an actress with a higher profile, but none of the original actresses that were rumored for the role fit the bill. If I had to go with any of them, I would've picked Ellen Page, as she's got the box-office backing, the reputation and the likability to lead what is sure to be a trilogy of hit films. And if you've ever seen Hard Candy, you know what she's capable of. Mulligan, though a fine actress, is just too innocent looking to fill the shoes of Noomi Rapace, the Swedish actress who starred in the original The Girl With The Dragon Tattoo. And don't even get me started on Stewart…
The Girl With The Dragon Tattoo is set for a December 2011 release. We'll let you who's going to be a new household name as soon as Salander gets cast…
Source: The Daily Beast