Sony Launches 'The Social Network' Official Site!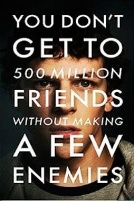 Film buffs and social media ninjas alike are anxiously awaiting the October 1st release of Sony's The Social Network, David Fincher's provocative new drama chronicling the origins of Facebook. The movie will premiere at the New York Film Festival on Friday, September 24th, but if you can't wait any longer to get your fix, check out the official site for the release by clicking here.  
Starring Jesse Eisenberg, Andrew Garfield, Justin Timberlake, Rooney Mara, Joe Mazzello and more, The Social Network is based on Ben Mezrich's bestseller "The Accidental Billionaires" and was adapted for the screen by Aaron Sorkin (A Few Good Men). Academy Award winner Scott Rudin produces with Michael De Luca, Dana Brunetti and Cean Chaffin.
The film's plotline is described as follows: On a fall night in 2003, Harvard undergrad and computer programming genius Mark Zuckerberg sits down at his computer and heatedly begins working on a new idea. In a fury of blogging and programming, what begins in his dorm room soon becomes a global social network and a revolution in communication. A mere six years and 500 million friends later, Mark Zuckerberg is the youngest billionaire in history… but for this entrepreneur, success leads to both personal and legal complications.