Sony Picks Up Blomkamp's 'Elysium' & Spurlock's 'Greatest Movie'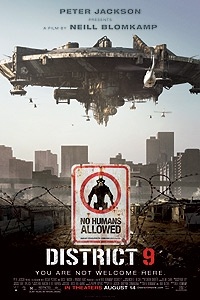 Big news today for the many fans of District 9 director Neil Blomkamp: Deadline reports that Sony Pictures has just bought the global distribution rights to Blomkamp's forthcoming Elysium, starring Matt Damon, Jodie Foster, and District 9's Sharlto Copley.
The director's second feature film is also science fiction and also allegorical, but this time set a hundred years in the future. Legendary "visual futurist" Syd Mead, who worked on Blade Runner and Tron, will be designing the film's visual style. Sony and Blomkamp are planning for a late 2012 release.
Meanwhile, over at this year's Sundance Film Festival in Utah, Sony just scooped up the rights to documentarian Morgan Spurlock's latest film, The Greatest Movie Ever Sold, about the world of product placement. Greatest was one of the most anticipated Sundance titles leading up to the festival and will get its official release this coming April.
Source: Film School Rejects, Variety