Sony Pictures, Aardman Animations Announce Voice Cast For 'Arthur Christmas'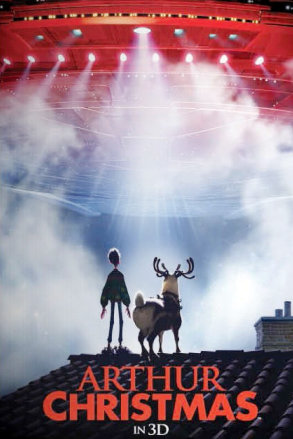 Adding to the relentless output of animated movies due next year, Sony Pictures Animation and Aardman Animations today announced the amazing voice cast they've lined up for Arthur Christmas, a 3D adventure that will hit theaters on November 23, 2011.
James McAvoy, Hugh Laurie, Jim Broadbent, Bill Nighy, Imelda Staunton, and Ashley Jensen will work on the family film, which is currently in production. According to the studio, the story, set on Christmas night, "reveals the incredible, never-before seen answer to every child's question: 'So how does Santa deliver all those presents in one night?' The answer: Santa's exhilarating, ultra-high-tech operation hidden beneath the North Pole. But at the heart of the film is a story with the ingredients of a Christmas classic – a family in a state of comic dysfunction and an unlikely hero, Arthur, with an urgent mission that must be completed before Christmas morning dawns."
McAvoy will play Arthur, the good-natured but clumsy younger son of Santa who loves all things Christmas. Laurie will take on the role of Arthur's older brother Steve, a cool and incredibly capable guy who has given the North Pole high-tech efficiency and military-style precision. Broadbent plays Santa, who pictures himself as the guy in charge at the North Pole, but is now more of a figurehead as the operation has outgrown him. Nighy plays Santa's 136-year-old father, Grandsanta, a cranky old codger who hates the modern world. Jensen will play Bryony, a lowly elf from the Giftwrap Battalion, with an eager-to-please attitude and an obsession with wrapping and bows. Staunton rounds out the cast as Mrs. Santa, a dedicated wife and mother to her husband and sons.
Sarah Smith will direct from a screenplay written by herself Peter Baynham. Commenting on today's announcement, Smith said, "We are thrilled to have assembled such a phenomenal group of actors for 'Arthur Christmas.' Not only are they all terrifically funny, charming and characterful but they have also brought an emotional subtlety and depth that gives the film great heart."
While the film sounds sweet enough, I just don't know if it's going to have the mettle to compete with the plethora of holiday releases on deck for next winter. Not only will Arthur have to face Warner Bros. eagerly anticipated Happy Feet 2, it will also go up against Summit's The Twilight Saga: Breaking Dawn Part 1 and DreamWorks' Shrek spin-off Puss in Boots. And that's just November. December will see The Muppets and Alvin and the Chipmunks 3 hit theaters, creating even more competition for a film without a following. As always, it's anyone's game – we've seen surprises in Hollywood's most lucrative seasons before. But looking at the schedule now, I can tell you there's definitely going to be a Clash of the Christmas Movies in 2011.
Source: Sony Pictures Animation