PlayStation 4: Are Games Getting Dumber While Devices Are Getting Smarter?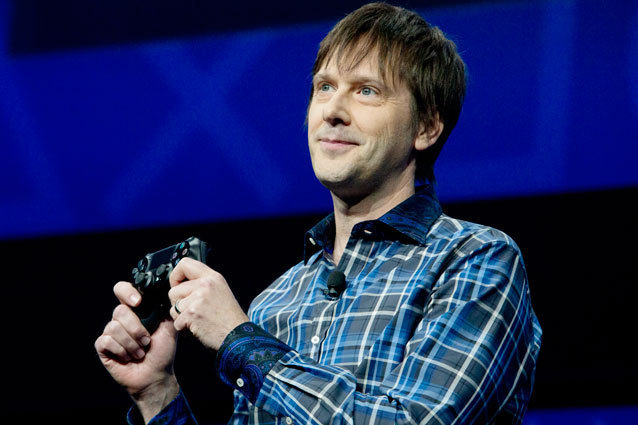 First, there was fire. Then the wheel. A couple thousand uneventful years passed and finally human existence became worthwhile with the invention of the iPhone. And now? Now, Sony seeks to make the next great technological leap. Behold, the PlayStation 4.
Okay, forgive the bombast, but there's really no other way to describe the hyperbolic tone of Sony's presentation of their latest gaming counsel Feb. 20. A procession of shark-suited executives and geeky tennis shoe-wearing game designers saying stuff like "That was the world we lived in then" to describe the sorry pre-PlayStation 4 Era introduced what the company is touting as the next great leap in interactive entertainment. And they did it all in front of a semicircular screen that looked like half of a 360 Circlevision theater from Epcot Center's Future World, except that that future is not a distant theme park light-show dream. That future is now. Not even Tony Stark leading a chorus-line of cheerleaders or Guy Pearce's creepy mogul from Prometheus could have teased out the mythic grandeur of the PlayStation 4 presentation at New York City's Manhattan Center with more showmanship.
RELATED: What Video Games Really Need to Be Made Into Movies
So did the tech live up to the hype? How could it? What was most surprising about Sony's high-five session was just how gaming focused it was. Or at least focused on all the new add-ons Sony is offering to complement the traditional gaming experience. Most technophiles, myself included, thought the PlayStation 4 would be hyped more as the nerve-center for a whole ecosystem of entertainment: not just videogames, but movies, TV, and streaming video. There was some of that, but not nearly as much one might have expected. The biggest innovation Sony presented is the concept of "remote play." That whatever game you're playing on the PS4 console itself—and presumably, whatever movie or TV show you're streaming on the device via Netflix and Hulu—can be paused and instantly transferred to an associated device, like the PlayStation Vita. Your kids take over the TV and interrupt your quest to kill Reapers while playing Mass Effect, just hit pause, and you can resume play on your Vita without any additional load time. That may be novel for games, but as far as movies and streaming video are concerned, that isn't that much more sophisticated than what the PlayStation 3 can already do. Not to mention what Apple's ecosystem has been doing for years.
Throughout the whole presentation, the kind of convenience and portability enabled by Cloud technology was paramount. Sony Computer Entertainment President Andrew House said, "The living room is no longer the center of the PlayStation ecosystem. The gamer is." Meaning that a gamer can access any game, anytime, anywhere, via any device. This could potentially rewrite the gaming industry's business model. Sony is imagining that most if not all games going forward will be available via direct download…but not all at once. David Perry, CEO of Sony's latest partner company Gaikai, envisions being able to download the first level or two of a game for a free trial, make it shareable to the gamer's friends, and then if the gamer really loves it he or she will pay to download the rest of it. Theoretically, that could allow so-called "indie games" like last year's existential masterpiece Journey, which House gratifyingly mentioned in the first five minutes of his presentation, to reach a potentially wider audience. Even after the free trial, each level of a game will download as its played, almost as if it's being streamed. That could really save hard drive space on the PS4.
With that portability, the traditionally solitary idea of gaming is a thing of the past. Sony's lead systems architect Mark Cerny wanted to stress that shareability is a key feature of the PlayStation 4, so that console gaming, not just computer gaming, can become a true social experience. Already in recent years the sharing of screenshots has been an important way for gamers to learn from each other about how to tackle difficult levels, challenges, and bosses, and now it will be possible for them to capture 10-second snippets of video to share with friends. Even beyond that it will be possible for a friend to remotely access your controller during a game to help you get past an obstacle you find difficult. Those kinds of social functions used to be the province of personal computers rather than console games, so it's no wonder then that the PS4 has been designed as if it is a computer, with major processing power, 8 GB of unified memory, and a built-in hard drive. It'll also boot up like some of today's fastest computers, allowing you to resume gameplay after turning on the device in seconds rather than minutes. The goal, Cerny says, is that there should be "nothing between the platform and the joy of play."
RELATED: Kid Cudi Cast in 'Need for Speed' Movie
The one aspect of the PS4 experience that oddly enough seemed underserved by the presentation was, well, the gameplay itself. They spent a lot of time showing a cartoony sword-and-sorcery fantasy called Knack that didn't exactly impress with its visuals or narrative. Perhaps this indicates once again a realignment of gamers' expectations. Whereas games of recent years like Uncharted, Red Dead Redemption, and Mass Effect have featured complex storylines, intricately developed characters and immersive worldbuilding, as if they were trying to be more "cinematic," maybe the play-as-you-commute Angry Birds mode of gaming is now in the ascendant…something you can pick up, fiddle around with in a few spare minutes, share with your friends, then put aside. (The PS4's controller includes a smartphone-style touchpad.) That seems antithetical to the very notion of a console set-up, but why else did Sony want to stress its on-the-go capability as its defining feature?
RELATED: Pokemon X and Y Due in October on Nintendo 3DS
If Sony failed to wow with its presentation, it wasn't for a lack of bells and whistles. It may have been because they seemed to forget one of the most desirable qualities of contemporary gaming—immersiveness—with all this talk of portability and social connectivity. In an increasingly mobile world it may be an appt strategy (pun intended). The worry is that, as our devices get smarter it might very well result in our games getting dumber.
Follow Christian Blauvelt on Twitter @Ctblauvelt
[Photo Credit: Frank Franklin II/AP Photo]
---
You Might Also Like:


15 Oscar-Winning Nude Scenes


Topanga's Revealing Lingerie Shoot: Hello '90s!