Sony Wins Big at Box Office with 'Hotel Transylvania' & 'Looper'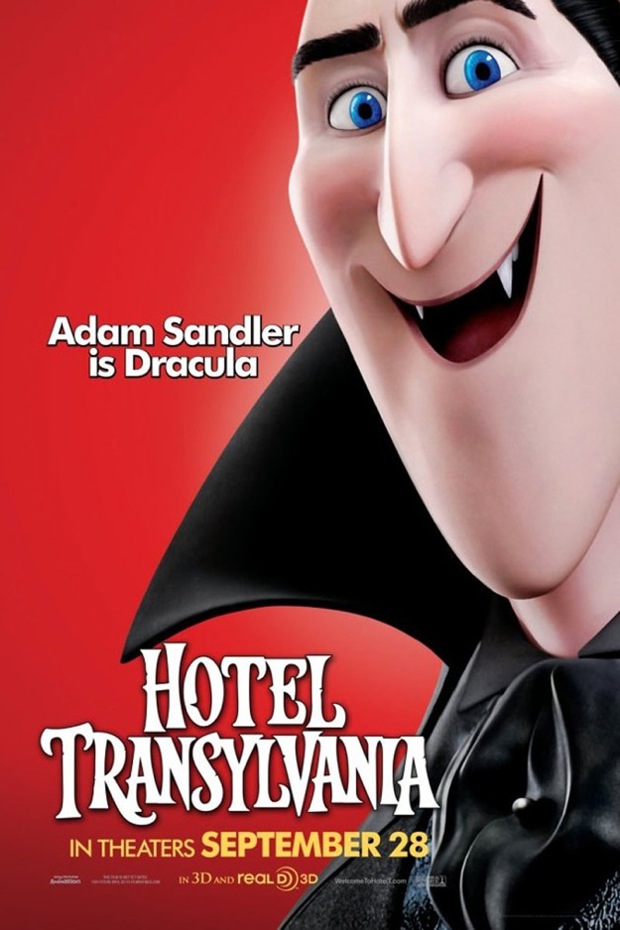 With the box office down for a solid month, the marketplace got a much needed boost with the debut of a couple of very strong newcomers from Sony Pictures:
1. Hotel Transylvania – $43.0 million
2. Looper – $21.2 million
3. End Of Watch – $8.0 million (a two week total of $25.9 million)
4. Trouble With The Curve – $7.5 million (a two week total of $23.7 million)
5.House at the End of the Street – $7.15 million (a two week total of $22.2 million)
First up is Sony Pictures Animation's PG-rated Hotel Transylvania in 3D featuring the voice talents of I Now Pronounce You Chuck and Larry costars Adam Sandler and Kevin James. The two reunite in this spooky and fun tale of a high-end resort operated by Count Dracula (Sandler) that is discovered by a human boy who falls in love with the Count's daughter. Featuring an amazing ensemble voice cast including Andy Samberg, Steve Buscemi, CeeLo Green, David Spade and Molly Shannon among others, the film took a $43 million record-breaking bite out of the box office in 3,349 theaters this weekend. This easily beat 2002's Sweet Home Alabama which held the September debut record for about a decade with its $35.65 million debut.
Notably and significantly Sony Pictures also regains the North American market share lead and becomes the #1 studio year to date in terms of total box office with $1,284.7 million through Sunday. Additionally, with Hotel Transylvania, Sony Pictures has released its 8th #1 film of the year. Other #1 films included Underworld Awakening, The Vow, 21 Jump Street, Think Like A Man, Men in Black 3, The Amazing Spider-Man and Resident Evil: Retribution. With the next James Bond film Skyfall and Zero Dark Thirty in the pipeline, the studio is on track for its biggest worldwide year ever!
With the family audience taken care of, Sony offered adults a completely different experience with the R-rated time travel hit man movie Looper, starring the ubiquitous and red hot Joseph Gordon-Levitt and action mainstay Bruce Willis.  The super-stylized, hyper-kinetic and visually stunning film is the vision of Rian Johnson who also directed Levitt in the modern crime noir story Brick and also the unique caper-comedy The Brother's Bloom. A sort of Terminator-meets-Blade Runner with the mind-bending qualities of Inception, the film has enough gunplay and ass-whuppin's to satisfy the die-hard action fans and enough pathos and rabbit hole logic to satiate the intellectuals in the audience.  A $21.2 million gross in 2,992 theaters landed this kick ass action flick in a strong second place finish and a long run in theaters bolstered by the expected terrific ongoing word-of-mouth.
Open Road's End of Watch debuted last weekend at number one after a hotly contested race for the top spot with Relativity's horror entry House at the End of the Street. This week it takes the third spot. Starring Jake Gyllenhaal and Michel Pena as two cops targeted for elimination after busting some seriously bad members of a drug cartel. David Ayer who is the king of the intense cop movie having written the classic Training Day starring Denzel Washington and Ethan Hawke and as the writer/director of Harsh Times and Street Kings, delivers big time with this arresting R-rated drama. A second weekend with $8.0 million gives it a $26.2M two week total by Sunday night.
This puts Clint Eastwood in the baseball drama Trouble With the Curve from Warner Bros. in fourth place with $7.53 million.  The film opened in third place last weekend with everyone analyzing what effect Eastwood's highly debated empty chair RNC speech may have had on the film's box office performance. No matter since the PG-13 rated film will have $23.7 million by the end of this, its second weekend at bat. 
Relativity's PG-13 horror flick House at the End of the Street, starring The Hunger Games Jennifer Lawrence, earned $7.15 million this weekend and has earned $22.2 million to date against a much lower than average (for the horror genre) second weekend drop of 42%.
Opening outside of the top 5, Twentieth Century Fox's PG-rated drama Won't Back Down, starring Viola Davis and Maggie Gyllenhaal as two mothers who are determined to make a change for the better at their kid's inner city school, was only able to rally the people for $2.7 million.
With its official wide opening set for next weekend, Universal's limited release of Pitch Perfect has already impressed. Opening this weekend in just 335 theaters, the film grossed 5.2 million good enough for sixth place. The film goes wide this Friday.
[Photo Credit: Sony Pictures]
More:
'Hotel Transylvania' Set For Sept. Record!
'End of Watch': A Photo Finish!
Director Husbands, Actress Wives: Hollywood's Box Office Power Couples