Sophie Nelisse Talks Carrying 'The Book Thief' and Pelting the Camera With Snowballs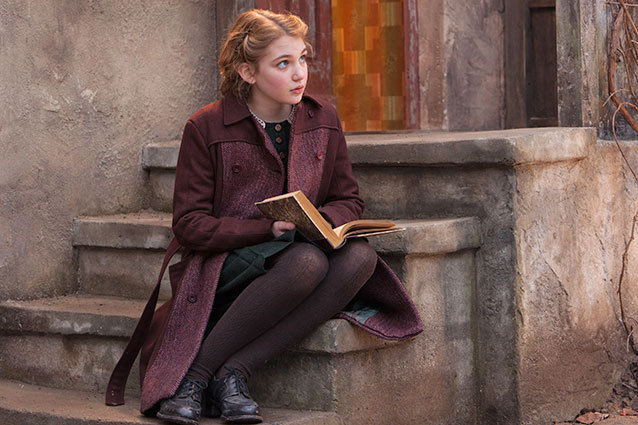 20th Century Fox via Everett Collection
Sophie Nèlisse is only 13, but she's already worked with some of the biggest names in Hollywood and won a Genie Award — the Canadian equivalent of an Oscar — for her work in the French-Canadian film Monsieur Lahzar. If that wasn't impressive enough, her first leading role, in the film adaptation of Markus Zusak's The Book Thief, has already earned her rave reviews. In the film, Nèlisse plays Liesel Meminger, a young German girl who is taken in by foster parents Hans (Geoffrey Rush) and Rosa Hubermann (Emily Watson) at the star of World War II. After the family agrees to hide a Jewish man, Max Vandenburg (Ben Schnetzer), Liesel learns about the power and hope that can be found in the written word.
We sat down with Nèlisse ahead of The Book Thief's November 8 release to talk about learning about the carrying the film, learning about the Holocaust for the first time, and the $20 she's still owed for pelting the cameraman with snowballs. 
Were you familiar at all with the story before you started working the film, or was that something you sort of discovered after the fact?
Shamefully, I had no idea what the book was, and even my friends really have no idea what the book is. I think it's more of a thing in the States. So, I started to read the book, and I got through only 20 pages when I got the part. I didn't want to do both at the same time, read the book and short, because then you go, "Was that in the book? Was that in the old script? Is it in the new script? Is it in the movie?" It's a bit confusing. I read it about a month and a half ago, and it was a terrific book, but I was so ashamed that I hadn't read it before because I watched the movie at that point. So I would sort of read the whole thing … and when I'd read the book, I'd see myself as Leisel, not who I'd think I'd see.
Did you know anything about the book's following? Was there anything that intimidated you about playing Liesel?
No. I knew it was for five years, the bestseller, but I just think, like Brian [Percival, the director] said so well, you just have to stay true to what Markus has written. Because I love how he writes, it's just so poetic, and I just think we just tried to do our best and keep it as natural as possible. Not dramatic, not overplayed, and just keep, really, the message of the book.
The relationship between Liesel and Max is so important to the film. Was it easy to create that sort of bond with Ben? Did you guys get along really well?
I think so, because … he's really like his character. Well, not as thin, though … But he's just so — he cares a lot for other people so he'd always write these poems to me, and he's just so sweet and I'd feel so comfortable around him. He'd always tell me these sweet things, or I'd go on set and he'd make me feel special.
You've said that you learned a great deal working with Geoffrey and Emily. Was it scary going into it, to work with such well known actors?
Yes, because, I mean, he won an Oscar and Emily got nominated, and it's like, "What if they think I'm bad?" Or what if they're like, "This movie's not going to be good because she's the one playing [Liesel]"? But after two days — I think I watched the Oscars in Geoffrey's room — they were like … my parents. They were so warm and helpful and they're both sweethearts.
And you were talking earlier about hanging out with Nico [Lierch, who plays Rudy], and it sounds like you two had a lot of fun on set. Did you get to hang out with a lot of the kids your age during filming? 
It was hard because I was shooting a lot. Even Nico, sometimes, would be there for a half day, or he wouldn't be there for three days, so I'd do the scenes with the younger kids and they would have to leave. And also, something that I like and I don't like at the same time, when you're one of the main characters, you always get [to] go in the green rooms, you stay warm when it's winter outside. Sometimes Nico's family in the movie was not there. So one day on the set, I just asked, "Can they come?" the four of them, the two girls and the two boys, so they came and we spent a little time. Also, sometimes the guys would play soccer, but I didn't really get to do any activities with them.
Were there any scenes that were fun to film, to make up for it? 
There were two. It was the snowball fight because I think it brought so much joy to the set and everybody on set was happy … Ben said that every time I hit someone in the face, he'd give me three dollars. I even shot the camera and the camera operator, and I was supposed to get $20, but I never got paid. But it was so much fun, and also the scene where I go in the water, because I could just go say my friends, "I went up to here [chest height] in a frozen river." And it's just something you don't get to do every day, you know, just walk in a frozen river. I remember Brian told me I would just go in up to my knees, and I just kept going down deeper and deeper — it was almost going up to my stomach and going up to my neck, and I was like, "Can you stop the scene now?" But it was just so much fun doing both.
Leisel's story is pretty intense, though. Was there anything that was really difficult for to film? 
It was just that, maybe, it was a time period that I hadn't experienced, so I can't really tell what people felt during that time. Obviously, you can sort of tell that they were stressed, [that's] something obvious. But you can't really know their real emotion and how they felt, if they could get along with it or not, so that was just new territory. But I think it helped a little bit how this is a new territory for me, but also for Leisel when she comes to her foster family, and she doesn't know how to read, so it's new territory for her also. We can sort of share that at the same time.
You speak with a German accent in the film and I thought you were a German actress — I though it was very convincing. What was the process like developing it?
We had two dialect coaches that were there two weeks before we started to shoot and we just — it's not that hard, because once you know different sentences, a word that you have to stress and syllables that are different, it's easy. You just have to practice, and try to speak as much as possible so that it becomes more fluent. They were there the whole shoot, so if I ever went back to my Canadian accent, it'd be fine. They'd just say, "Try and go a bit more stressed, remember to stress these words."
You said earlier that as part of your preparation for the film, you watched a bunch of movies set during World War II and the Holocaust. Was there one that you enjoyed the most or stood out to you the most? 
Schindler's List. Because it's so realistic, and I just went "oh my God" when I saw the movie. I didn't know what to say. It just made me realize so many things about what happened … It's such a great movie [but] I didn't want The Book Thief to be like Schindler's List. That's really on the Holocaust, on the Nazis, Stasi, and everything. The Book Thief is about that, but it sends the message through a girl my age, so kids my age, maybe they'll want to see it a bit more, and not go there and say "I'm going to watch a Nazi movie," you know. You're going there and saying "I'm going to watch the story of a girl."
This is only your third film and you're carrying the whole thing. Is there anything about this experience that stands out? How does it compare with the other films you've made? 
The whole thing, really. It's so different from set to set. This was so fun because I was there for a month and I got really to connect with everyone and have all these inside jokes and all these little things that were so fun, running gags on set, and I think Monsieur Lahzar also was a great experience, because I was with a bunch of kids, so it felt like I was going to the playground when I would go on set, and the director would roll under the tables and do all his crazy stuff, so you'd really feel free and I'd have a great acting coach like I had on Monsieur Lahzar — seriously, I'm gonna hire her every time, she's great – and so, every set that you go to, you pick up all these little things that are going to help you your whole life.

Since you play the "Book Thief" in the film, I was wondering if there were any books you loved so much you'd be willing to steal them. 
One that I read recently is Fable Heaven. I never thought I'd like that book, because I don't really like fantasy things, but I love the book. And there's this book I was reading when I was four — or maybe two — you know the story of the turtle and the fox? And they're doing a race and the turtle wins because the fox took a nap? I love that story.